2021
Anne G. Morgan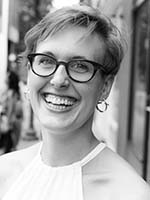 Anne G. Morgan received the 2019 Elliott Hayes Award for Outstanding Achievement in Dramaturgy for her leadership of Shakespeare's New Contemporaries, the American Shakespeare Center's bold initiative to produce new work inspired by Shakespeare's plays. Current dramaturgy projects include world premieres by L M Feldman, Anchuli Felicia King, and Emma Whipday. Additionally, Morgan regularly provides dramaturgical support for ASC's early modern plays. She was previously the literary manager and dramaturg at the O'Neill Theater Center and freelanced with NYTW, Kennedy Center/NNPN Playwrights' Workshop, Company One, and more. She serves on the executive board of the Literary Managers and Dramaturgs of the Americas, and will be the resident dramaturg this summer.
---
Past Visiting Faculty include:
Kate Bredeson, Jonathan Dorf, Jeff Goode, Jason Grote, Samantha Macher, Kimberly Patterson, Stephen Sossaman, Shane Strawbridge, Roland Tec, Dominic Taylor, and Peter Ullian.
---
Planned Guests for Summer 2021
Because of the rotating nature of the program, faculty and guests are listed subject to availability. Please check this page frequently for updated information.
Nicole B. Adkins
Adkins has taught classes and workshops to students of various ages at theatres, K-12 schools, and universities. Her plays have been performed at Children's Theatre of Charlotte, Hollins University, Mill Mountain Theatre, Studio Roanoke, Creative Drama Children's Theatre in Winston-Salem, NC, SkyPilot Theatre in Los Angeles, the American International School in Guanghzou China, and other theatres, schools, and museums nationally and abroad. She has six plays published through YouthPLAYS, where she also serves as artistic associate. She collaborated with Matt Omasta of Utah State University on a book entitled Playwriting and Young Audiences: Collected Wisdom and Practical Advice from the Field (Intellect Press, 2017). Awards include the National Waldo M. and Grace C. Bonderman Award and recognition in the Beverly Hills Theatre Guild Marilyn Hall competition. A Hollins children's literature M.F.A. graduate, Hollins Playwright's Lab core visiting faculty member, and part-time assistant professor at Kennesaw University, Adkins is also a member of Dramatists Guild, AATE, and TYA/USA.
Courses: Writing Plays for Young Audiences, Teaching Theatre
https://www.nicolebadkins.com/
---
Bonnie Metzgar
Metzgar is a playwright, director, dramaturg, and producer who specializes in creating socially-provocative theatre works. From 2008 to 2013, Metzgar served as artistic director of About Face Theatre in Chicago, the largest theatre in the U.S. dedicated to advancing the cultural dialogue on sexuality, politics, and gender identity. Metzgar is the recipient of a 2018 MacDowell Colony fellowship, the Carl Djerassi Fellowship in Playwriting at the University of Wisconsin, a 2013 NEA commission, and she is a recent member of the Goodman Theatre's resident Playwrights Unit. Her plays have been finalists for the Eugene O'Neill National Playwrights Festival and selected for the Great Plains Theatre Conference in Omaha. Metzgar was a founding member of the National Advisory Committee for Howlround at Arts Emerson, the cocreator of the 365 project with Suzan-Lori Parks, and associate producer at the Public Theater where she was the original producer of Joe's Pub. In addition to being on the rotating faculty of Hollins University's M.F.A. playwriting program, Metzgar has taught at Northwestern, SUNY Purchase, Brown, University of Chicago, Wisconsin, Yale, and DePaul. She is currently serving as director of artistic programs at Pier55. Metzgar received her M.F.A. in playwriting from the University of Iowa and her B.A. cum laude from Brown.
Courses: Playscript Analysis, Theatre for Social Change, American Women Playwrights
---
Planned Guest Respondents for Playwrights Festival 2021
Because of the rotating nature of the program, faculty and guests are listed subject to availability. Please check this page frequently for updated information.
---
Past Guest Speakers and Respondents include:
Liz Duffy Adams, Mark Armstrong, Becky Becker, Kate Blair, Mark Bly, Café Antarsia Ensemble, Robert Caisley, Mark Charney, Rick Cleveland, Erin Courtney, Joseph Craig, Annalisa Dias, Ken Dingledine, Laura Esping, David Faux, Kevin D. Ferguson, Kirsten Fitzgerald, Gary Garrison, Marion Grey, Neeley Gossett, Jason Aaron Goldberg, David Gothard, Larry Harbison W. David Hancock, Heather Helinsky, Jere Hodgin, Mead Hunter, Toby Huss, Morgan Jenness, Christopher Jones, Melanie Joseph, Celise Kalke, Marya Sea Kaminski, Laura King, Bernadette Brown Lark, Jacqueline Lawton, Drea Lewis, Jessica Litwak, Todd London, Michelle LoRicco, Bree Luck, Sarah Lunnie, Margaret McKowen, April Marcell, Michael Martin, Paul Meshejian, Julie Mollenkamp, Ann G. Morgan, Bob Moss, Brett Neveu, Robert Ross Parker, Robert Patrick, Ginger Poole, Craig Pospisil, Scott Proudfit, Erin Quinn Purcell, Michael Rau, Jay Reiss, Ron Riley, Randy Rollison, Carl Hancock Rux, Clyde Santana, Tanya Saracho, Ed Sayles, Suzanne, Shawyer, Margo Lee Sherman, Kim Shively, Cheryl Snodgrass, Jim Stark, Gwydion Suilebhan, Jeffrey Sweet, Adam Szymkowicz, Dominic Taylor, Lucy Thurber, Rob Urbinati, Elena Velasco, Naomi Wallace, Mac Wellman, Dwayne Yancey, Ricky & Dana Young-Howze, Ernie Zulia