At Hollins, dance majors learn to think of dance as a dynamic form, full of possibilities for growth and innovation. Members of the dance community are encouraged to discover, refine, and celebrate who they are as artists. The program offers outstanding technique classes and an eclectic visiting-artist roster. Opportunities to perform and craft are abundant.
Tracks
Bachelor of Arts and Fine Arts (B.A./B.F.A.)
The dance major program here is the first of its kind. It's intended for students who wish to pursue professional careers as performers or educators.
Bachelor of Arts (B.A.)
The B.A. dance degree is for those interested in gaining a comprehensive background in dance. This degree allows students to engage in other fields of study along with dance.
Minor
Students focus their time studying movement and the overall creative process. This minor requires about half the courses as the major.
What You'll Learn
Find Your Range
I believe the Hollins dance community as a whole has created an array of experiences, which could not be possible if I would've gone anywhere else. I have had the opportunity to learn from phenomenal visiting guest artists, exploring a wide range of movement practices and tracing new landscapes.
Chloe Mahalek
Find Your Community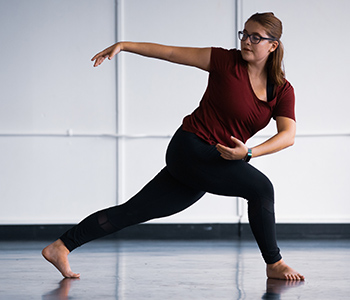 I am consistently excited by the individual uniqueness of every student in the department. In our practices, we learn the best ways to communicate and work together. We challenge each other to be better versions of ourselves. The sense of community within hollinsdance is the strongest sense of community I feel across the whole campus.
Kaitlyn Phillips
Find Your Voice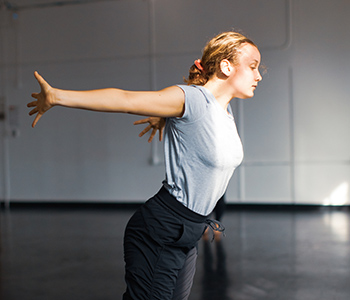 What most excites me about hollinsdance is that the work that gets made is unlike any dancing I have seen before. hollinsdance isn't afraid to push boundaries. I feel challenged to create work. I am encouraged and supported to question research methods by both my peers and faculty. I am finding my voice as an artist.
Kaity Ellis