Gender and women's studies is an interdisciplinary program. It explores how systems of oppression/resistance and privilege operate. Faculty members dedicate themselves to creating an environment that fosters critical thinking. They also support student activism and peer mentoring.
Tracks
Major
The Gender and Women's studies major provides students with an understanding of the importance of gender as a category of analysis. It also looks at gender's intersections with race/ethnicity, class, age, sexual identity, nationality, and (dis)ability.
Minor
The Gender and Women's Studies minor is a scaled-down version of the major that requires six courses and an internship.
---
Internships are required and guaranteed for gender and women's studies majors.
What You'll Learn
An Enduring Learning Experience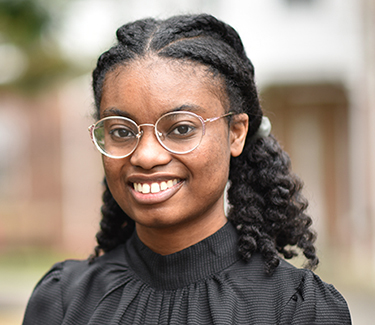 What stands out about gender and women's studies is it concerns itself with your perspectives, your lived experiences, where you come from, and how all of that shapes your view of the world. The skills I learned in this major – research skills, conversation skills, critical thinking skills – are skills I'll be able to take with me for the rest of my life.
Te'ya Mitchell '21 will embark on a four-year fellowship with Urban Teachers
Skills for a Lifetime of Careers
As a GWS major I learned how to research my topic, write convincing arguments, do more research, and debate. Regardless of your career, you will need all of those skills.
Shamecca Bryant, M.A. in sociology from American University, owner, Bryant Consulting Solutions
Immersive and Stimulating Environment
I've always joked that I came to a women's college to study GWS much like one would go to France to study French. I've found Hollins to be similarly immersive and stimulating and the perfect place to study GWS! I've felt myself grow so much not only as a scholar, but as a woman through the influence of the Hollins GWS department.
Elise Schloff '19