Tracks
Program Curriculum/Major
The public health program at Hollins is specifically designed with a core that builds a foundation of knowledge in public health and a slate of electives that allows the student to build their own path of specialty study. Working with the program director, students can construct a generalized program, one focused on socio-cultural perspectives, or one anchored in the natural sciences.
Core courses include:
Introduction to Public Health
Includes an overview of epidemiological, environmental, occupational, cultural, behavioral, and policy issues relevant to the health of populations around the world. Also provides historical context for current health issues and global practices.
Epidemiology
Analyzes the distribution, determinants, and prevention of disease, disability, and premature death in populations. Includes a quantitative analysis of the biological, social, economic, and environmental conditions that affect health.
Global Health
Expands ideas introduced in Introduction to Public Health and Epidemiology to infectious and chronic disease in terms of global prevalence. Considers case studies and theory and methods about health from a multidisciplinary perspective. Explores the relation of biological, economic, political, cultural, and behavioral factors to disease spread and management.
Introduction to Statistics
Topics are methods of description, measures of location and dispersion, simple linear regression, normal distributions, sampling distributions, interval estimation, and significant tests of proportions. Use of a statistical computer package is required.
Senior Capstone
Guides students through the process of public health intervention design, from needs assessment to evaluation. Students work in groups mentored by the course instructor to develop and pilot research instruments and study protocols, simulating public health working environments.
Internships/Practicum


Academic component of supervised field experience in public health. Students attend a weekly seminar to discuss readings linking research and practice, complete in independent project that builds on the internship, and develop presentations of their work.
Students majoring in public health must also complete six elective courses, chosen in consultation with the program director.
Internships are required and guaranteed for public health majors.
Minor
Introduction to Public Health
Epidemiology
Introduction to Statistics
Global Health
Choice of two electives
What You'll Learn
What is Public Health?
According to the American Public Health Association, public health "promotes and protects the health of people and the communities where they live, learn, work, and play." The study of public health is an interdisciplinary endeavor that allows students to build an integrated approach to health issues by combining sociocultural disciplines with the natural sciences.
Public Health at Hollins
Public health is an ideal fit within Hollins' rich liberal arts experience. Students in the program grasp the broad social, cultural, and economic elements related to the field by completing courses in each of the university's four academic divisions: Humanities, Social Sciences, Natural Sciences and Mathematics, and Fine Arts. The program at Hollins includes internships and experiential learning opportunities that enable students to study diverse communities on a macro and micro scale and conduct significant undergraduate research.
What Differentiates the Public Health Program at Hollins
What differentiates the public health program at Hollins from similar programs at other colleges and universities is our emphasis on the principles of social justice while maintaining a scientific basis.
Lori Joseph, associate professor of communication studies and director of the public health program at Hollins University
Public Health Expert from Kenya to be Fulbright Scholar-in-Residence in 2021-22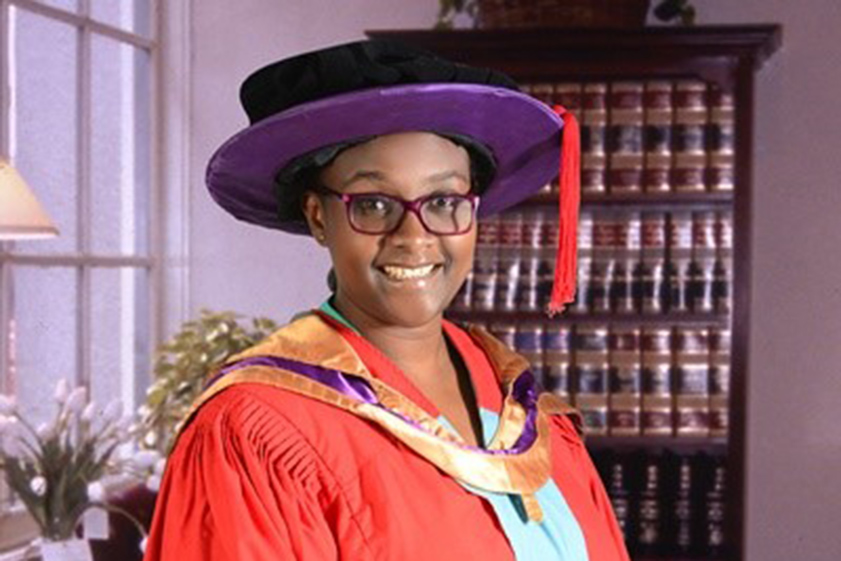 Isabell Kingori, an authority in parasitic diseases who teaches at Kenyatta University's School of Public Health in Nairobi, will further infuse a global perspective into Hollins' public health curriculum. Kingori, who teaches in the School of Public Health at Kenyatta University in Nairobi, will be at Hollins for the 2021-22 academic session.