Buy Tickets Online
Purchase tickets online or call the box office at 540-362-6517.
Fall 2019
Goodnight Moon, the magical musical
Based on the children's book by Margaret Wise Brown, Hollins class of 1932. Adapted for the stage by Chad Henry.
The tradition returns to Hollins so every generation can enjoy the delight of Goodnight Moon on stage! As part of our ongoing Legacy Series which showcases dynamic plays, musicals, and original theatre pieces based on the work of Hollins' most-celebrated authors, we are thrilled to announce the return of this exciting musical theatre experience based on Margaret Wise Brown's celebrated book. Enter bunny's wondrous great green room, filled with toys and pictures, and watch the fanciful story of goodnight wishes come to life in this vibrant musical comedy. This is a bunny who can't seem to go to sleep, as his overactive imagination carries him over the moon and back. Chad Henry's clever and charming adaptation comes straight from the pages of Margaret Wise Brown's classic children's tale, which has sold millions of copies around the world. For little kids, college kids, parents, grandparents, and children of all ages.
October 19 at 11 am
October 20 at 2 pm
October 24-25 at 7:30 pm
October 26 at 11 am and 7:30 pm
Location: Main Stage, Hollins University Theatre
$10 general admission; $5 children under 12.  One free ticket to current Hollins students, faculty, and staff.
---
Imogen (aka Cymbeline)
American Shakespeare Center Touring Company
Princess Imogen is catapulted onto an epic journey when her father, King Cymbeline, banishes her soulmate. Featuring a band of tough but lovable woodsmen, an evil queen, noble battles, and unexpected plot twists, this late Shakespearean play enchants audiences with a story about a powerful princess who will do anything for love.
October 30, 7:30 pm
Location: Main Stage, Hollins University Theatre
Music begins at 7 pm, performance at 7:30 pm.
Admission: $10 general. One free ticket to current Hollins students, faculty, and staff.
Tickets to the general public will only be available the evening of the performance. You may purchase them at the door starting at 6 pm. We will not be taking any reservations for this performance and tickets will be sold on a first come first serve basis.
---
Spotlight Reading Series: The Revolutionists
Written by Lauren Gunderson. Directed by Lauren Brooke Ellis.
A script-in-hand staged reading that captures the life and action of the play. Four badass women lose their heads in this irreverent comedy set during the French Revolutions Reign of Terror. A playwright, a queen, a rebel, and an assassin drive this dream-tweaked play, which is about violence, legacy, art and activism, feminism and terrorism, compatriots and chosen sisters, and how we actually go about changing the world.
"It's simply a brilliant script." — CityBeat, Cincinnati
"The Revolutionists resembles a blindingly scintillating gem-like puzzle…By turns it is drolly funny and affectingly poignant, then doubles back to satirical farce, then ends by bringing into stark relief the social commentary that it has been nurturing all night." — FloridaTheaterOnStage.com 
November 1-2 at 7:30 pm
November 3 at 2 pm
Location: Upstairs Studio, Hollins University Theatre
Admission: Free and open to the public (seating is limited and on a first come first serve basis).
---
Winter 2020
HOLLINS-MILL MOUNTAIN 2020 WINTER FESTIVAL OF NEW WORKS
Produced by Hollins Theatre Institute and Mill Mountain Theatre
This event is the cornerstone of the dynamic partnership between Hollins and MMT. The Winter Festival features two new plays by Hollins playwrights and faculty presented in rep on Mill Mountain Theatre's black box stage.
Moving
By Sean Michael McCord. Directed by Todd Ristau.
Over the span of 30 years in one apartment in the Silverlake neighborhood of Los Angeles, lovers come together, fall apart, and move on through life's choices.
January 23 at 7:30 pm
January 25 at 7:30 pm
January 30 at 7:30 pm
February 1 at 7:30 pm
Arachnothology (A Study of Spiders)
By Kimberly Patterson. Directed by Lauren Brooke Ellis.
A study of spiders in written language: Arachne to Spider-Gwen; 90,000 species; 13 scenes. With a cast of all female performers, Arachnothology tracks the evolution of spiders through mythology, folklore, nursery rhymes, popular culture, and science to weave a tapestry about identity and choice–and whether or not it's possible to start over.
January 24 at 7:30 pm
January 26 at 2 p,m
January 31 at 7:30 pm
February 2 at 2 pm
Location: Mill Mountain Theatre, Waldron Stage
Admission: $10 general.
---
Spring 2020
Native Guard
By Susan Booth. Based on the book by Natasha Trethewey M.A. '91.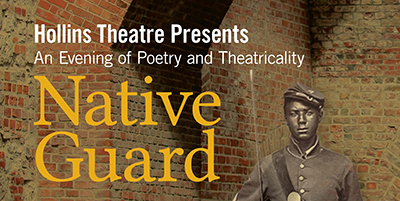 Hollins Theatre is thrilled to bring to the stage Native Guard, the Pulitzer Prize winning collection of poetry by Hollins alumna and former U.S. Poet Laureate Natasha Trethewey. It will be presented in a theatrical reading with stunning visuals and live music, starring Broadway and TV actress January LaVoy, with Dominic Taylor, nationally-renowned African American theatre maker and Hollins Theatre Resident Professional Teaching Artist. Also featuring Roanoke's own jazz and blues singing star, Shawn Spencer. 
Native Guard juxtaposes the deeply personal experiences of Trethewey, a child of a then-illegal marriage between her African American mother and Caucasian father living in 1960s Mississippi, with the experience of a soldier in the Native Guard, the first African American Union troop in the Civil War who was charged with guarding white Confederate captives. Years after her mother's tragic death, Trethewey reclaims her memory, just as she reclaims the voices of the black soldiers whose service has been all but forgotten.
Join in a conversation with honored guest Natasha Trethewey immediately following the performance.
March 8 at 7:30 pm
Location: Main Stage, Hollins University Theatre
Admission: Free and open to the public
---
Rescheduled for fall 2020
Spotlight Reading Series: The bluest eye
Adapted by Lydia R. Diamond. Based on the book by Toni Morrison. Directed by Dominic Taylor.
A script-in-hand staged reading that captures the life and action of the play based on the monumental book by Nobel Prize-winning author Toni Morrison. The Bluest Eye is a story about the tragic life of a young black girl in 1940s Ohio. With rich language and bold vision, this powerful adaptation of an American classic explores the crippling toll that a legacy of racism has taken on a community, a family, and an innocent girl. Directed by resident professional teaching artist Dominic Taylor, Hollins Theatre is proud to honor the late great Toni Morrison with this staged reading of one of her most important works performed by Hollins students.
---
rescheduled for fall 2020
The Curious Incident of the Dog in the Nighttime
By Simon Stephens. Based on the best-selling novel by Mark Hadden.
Winner of seven Olivier Awards and five Tony Awards including Best Play. The play that dazzled Broadway and West End audiences, brings Mark Haddon's best-selling, award-winning novel to thrilling life on stage. Tenacious and intelligent, Christopher is a teenager on the autistic spectrum, who's better at solving equations than navigating a world that's stubbornly out of sync with how his mind works. After being wrongly accused of murdering his neighbor's dog, he resolves to find the real culprit. But, when his investigation uncovers painful truths about his family, he dares to strike out on his own, embarking on a thrilling adventure that upturns his whole world in a thrilling, heartwarming, and uplifting story for every one of us. Recommended for ages 12 and up due to strong language throughout the production.
"A beautiful and dazzlingly inventive show about the wonders of life." — Evening Standard 
"Astonishing and unmissable." — Sunday Express
"Inately theatrical…funny…and extremely moving." — Telegraph (London)
---
student produced work
No Shame Theatre: Special Limited Run
No Shame Theatre provides an experiential learning experience for all aspects of live performance – original plays, innovative performances, and freedom of expression. This limited run of seven No Shames is being produced in conjunction with the undergraduate playwriting fundamentals course—taught by the inventor of No Shame, Todd Ristau. No Shame is a place where anything can happen, and usually does! Come to watch, come to perform, or bring an original piece of your own to put on stage.

September 11 & 25, October 9 & 23, November 6 & 20, December 11 at 10 pm

Location: Upstairs Studio, Hollins University Theatre
Admission: $5 general; $1 for Hollins students; $5 for student season pass
The 24-Hour Plays®: Hollins
The Hollins Theatre Institute is excited to have the opportunity for our student actors, directors, and playwrights to become part of this internationally recognized theatre event. In just 24 hours they will experience the entire process of new play development from inspiration to public performance of brand new 10-minute plays. 
November 17, 7:30 pm
Location: Main Stage, Hollins University Theatre
Admission: Free and open to the public.
Ten-Minute Play Festival
Produced by the fall 2019 directing class. Featuring nationally published plays and work from the Hollins Playwright's Lab, these student-directed short plays provide a showcase where Hollins' best can flex their creative muscles and show off their growing talent.
 December 7 & 9 at 7:30 pm
Location: Upstairs Studio, Hollins University Theatre
Admission: Free and open to the public.