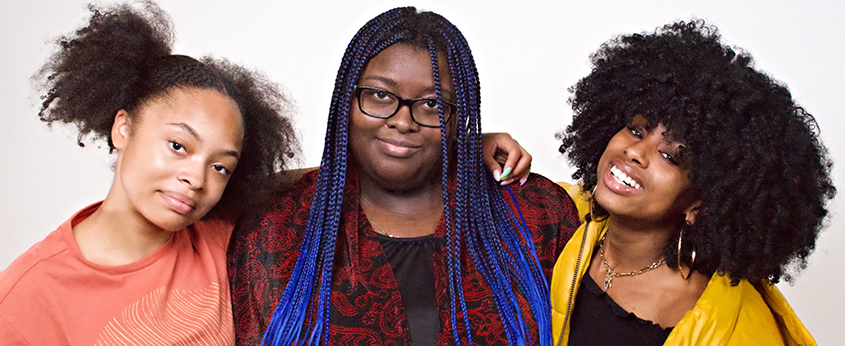 Based on revised CDC and VDH guidelines, Hollins University has adjusted its Culture of Care protocols, and Hollins Theatre is delighted to announce we are welcoming visitors back to campus for our spring 2022 main stage production: All The Natalie Portmans, by C.A. Johnson! We will also continue to offer a live-stream option for our friends and family who are uncomfortable or unable to join us in person.
Please note, all audience members will be required to show proof of full vaccination (either two doses of the Pfizer or Moderna vaccine, or one dose of the Johnson & Johnson) and a booster at the door to attend a performance. Everyone is also required to wear a mask that covers your nose and mouth at all times while in the theatre.
Please see complete details below. You are welcome to call our box office with questions at 540-362-6517.
---
2021-22
Fall 2021
spotlight reading series: the orphan sea
A script-in-hand reading of the play by Caridad Svich. Directed by Hollins resident professional teaching artist Michelle LoRicco.
Caridad Svich is a prolific U.S. Latina playwright, translator, lyricist, and editor. In this play, she tells a story of us, here, now, and also of who we were once. It is a story of those that cross rivers and seas and those that wait for them, of a lover who searches for one lost years ago, and of someone called Penelope, who may be waiting for someone called Odysseus. Told in poetry, song, film and dance, a play for anyone that dares to dream.
September 23-25 at 7:30 pm
Location: Theatre Main Stage
In-person admission: Free to current Hollins students, faculty, and staff ONLY.
Livestream viewing: Go to BrownPaperTickets.com
---
Main stage Production: The Skriker
The play follows the Skriker, a shape-shifting fairy and death portent from the underworld, in its search for love and revenge as it pursues two young women, sisters Josie and Lily, to London, changing its shape at every new encounter. Along with the Skriker comes Rawheadandbloodybones, the Kelpie, the Green Lady, Black Dog, and others, until the whole country is swarming with enticing and angry creatures that have burst from the underworld. Written by Caryl Churchill, an iconic 20th/21st century feminist playwright, The Skriker is an excellent play for getting into the Halloween spirit.
October 21-24 at 7:30 pm
October 24 at 2 pm (sensory-friendly performance)

Location: Hollins Theatre Main Stage
In-person admission: Free and open to current Hollins students, faculty, and staff ONLY. Tickets available in Moody, October 18-22.
Livestream viewing: Go to BrownPaperTickets.com
---
Trans[Plays] of Remembrance: November 17-19
Join Hollins University and Ohio University to remember transgender stories in our past, present, and future. T[P]R is a streamed, short play festival celebrating trans* digital performance, theatre-makers, and poets in tandem with Trans Awareness Week and the Transgender Day of Remembrance. All three nights will be livestreamed on HowlRound TV at 7 pm (EST). Go to https://howlround.com/happenings/livestreaming-festival-trans-plays-remembrance for more information and the livestream links.
November 17 at 7 pm: LIVE from Hollins Theatre's Main Stage
Son of Apollo: a short play by Britt A Willis, directed by Katie Coleman and performed by Jay Collier and Ami Trowell.
Martha & Rita: an original performance by Asha-Ashanti Turner and Seiya Sessoms.
Community conversation with Hollins alumnae/i and faculty panelists, including: T[P]R Festival director Katie Coleman (she/her), special education paraprofessional Justin Rogers (he/him), and visiting assistant professor in modern European history Julie Riegel.
November 18 at 7 pm: ZOOM Watch Party in the Hollins Theatre's Main Stage
Ten Minutes from the Crossing: a short play by Jesse Alana Robkin, directed by Katie Coleman.
Trans Moses!: an original piece by Christian Đan Lưu.
Community conversation hosted by T[P]R Festival director Katie Coleman with Jesse Alana Robkin and actors, as well as special guest: Seattle-based playwright Skol McCommis.
November 19 at 7 pm: ZOOM Watch Party in the Hollins Theatre's Main Stage
A short selection from WAAFRIKA 1 2 3; a Queerly Scripted Tragic African Fantasia by Nick Hadikwa Mwaluk, directed by Yusef Seevers and performed by Troy Rockett and Janai Lashon.
---
Winter 2022
2022 HOLLINS-MILL MOUNTAIN WINTER FESTIVAL OF NEW WORKS
Mothers and terrorists
Written by David Beach. Directed by Kristin Lundberg.
Every year, Russell pauses on September 11 to remember two work friends who perished in the attack on the Pentagon, but also to reflect on the changes in his relationship with his mother during that year, when her life changed because of dementia. Mothers and Terrorists juxtaposes emotional and existential angst and aims at finding some truth and meaning through them both.
CANCELED
---
North wind
Written by Sarah Cosgrove. Directed by Richie Cannaday.
How do you move forward when everything you see reminds you of what you've lost? A trio of characters search for freedom from their pasts in a snow-bound Midwestern bar.
CANCELED
---
The Detention lottery: a multi-media staged reading
Written by Margaret O'Donnell. Directed by Keiko Carreiro.
Step behind the locked doors of a U.S. immigration detention center courtroom in 2018 to observe judges handing down, in the words of one immigration judge, life and death decisions in a traffic court setting. The reading will be followed by a moderated talk-back session.
CANCELED
---
Spring 2022
Hollins Theatre Flicker Series presentation: the moors
A script-in-hand reading that captures the life and action of the play by Jen Silverman. Directed by Lauren Brooke Ellis and Deidre Price '22.
Far from a mainstream, American-realism kind of playwright, Jen Silverman's plays ask the audience to come into a somewhat odd world, and to step over some sort of threshold that might be uncomfortable. The Moors is a dark comedy about love, desperation, and visibility. Two sisters and a dog live out their lives on the bleak English moors, dreaming of love and power. The arrival of a hapless governess and a moor-hen set all three on a strange and dangerous path.
March 3-5 at 7:30 pm
Location: Upstairs Studio Theatre
In-person admission: Free to current Hollins students, faculty, and staff ONLY.
Livestream viewing: Free and open to the general public. Go to https://bpt.me/5377930 for the livestream link.
---
mainstage production: All the natalie portmans
Written by C.A. Johnson. Directed by Yusef Seevers.
Sixteen-year-old Keyonna and her older brother Samuel live on the brink of eviction while dreaming of a better tomorrow. Too smart, "too gay", and too lonely to fit in, Keyonna escapes into a world of rom-coms, red carpets, and all the iconic characters played by her muse, Natalie Portman. But when "all the Natalie Portmans" start talking back to her, Keyonna finally has to face her off-screen drama in this imaginative new play that reminds us to embrace life on the ground while still reaching for the stars. Hollins Theatre is excited to welcome Yusef Seevers, a queer and BIPOC identifying, West African dance master teacher, musician, and "joyologist" as a guest director for this show.
April 13-16 at 7:30 pm
Location: Hollins Theatre Main Stage
Admission: Free and open to everyone. Masks required at all times.
Campus Community: Tickets available in Moody for students, faculty and staff, April 11-15. Or show your Hollins ID at the door.
General Public: Tickets at the door. Proof of Covid-19 vaccination and booster required.
Livestream Viewing: Go to https://bpt.me/5405251 or email boxoffice@hollins.edu to request the livestream link.