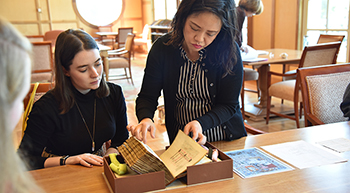 Employers and grad schools want students who can think, and students who can do. ESP gives you the ideas and skills to put the liberal arts to work.
This is our bold educational perspective on education. It's a real-world — even other-worldly — way to learn that's relevant, rewarding, flexible, and fun.
Here are the lists of skills and perspectives in the program. Put them together, and you have ESP.
Skills
Writing
Oral Communication
Applied Quantitative Reasoning
Applied Research Techniques
Perspectives
Aesthetic Analysis
Creative Expression
Ancient and/or Medieval Worlds
Modern and/or Contemporary Worlds
Social and Cultural Diversities
Scientific Inquiry
Global Systems and Languages