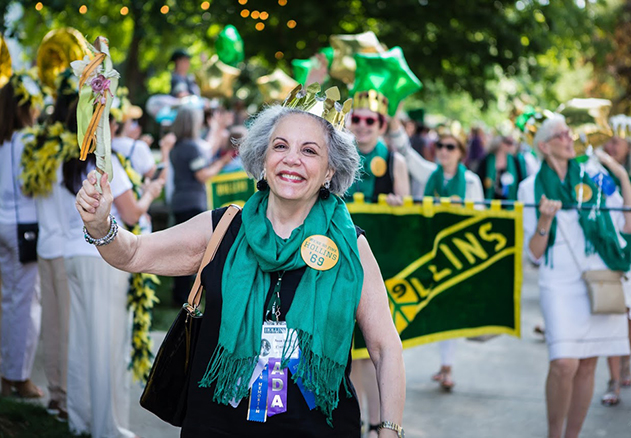 Celebrating all classes ending in 0 or 5 and the class of 2018!
Virtual Reunion
Reunion is one of the most cherished traditions at Hollins. While we can't reconnect with friends in-person and bask in the beauty of the Hollins campus, we're excited to bring a piece of campus to you and revisit all the best parts of Reunion.
Thanks to our wonderful Hollins staff, we were able to film your favorite Reunion traditions on campus while practicing social distancing. Click these links to view the videos:
You can watch these at your own time or schedule a watch party with your classmates. We encourage you to use Virtual Reunion as an opportunity to reconnect with your classmates and to your Hollins roots. 
Live Award Ceremony
The Award Ceremony is a time to celebrate our wonderful volunteers, hear an update from Alumnae Board President Barbara "Duck" Duckworth '72, and reveal the combined class gift totals and reunion class giving awards.
You can watch a recording of the ceremony here: https://youtu.be/kkn87VV0i74
Check out class giving and participation totals here: https://hollins.edu/alumnae/giving/why-give/reunion-class-giving/.
Don't Wait Another Five Years For Reunion
You don't have to wait another five years to visit campus for the next Reunion. All reunion classes will be welcomed to attend Reunion 2021 on June 4-6, 2021. Stay tuned for more information.
If you have any questions or concerns, please do not hesitate to contact us at reunion@hollins.edu or 1-800-TINKER1.