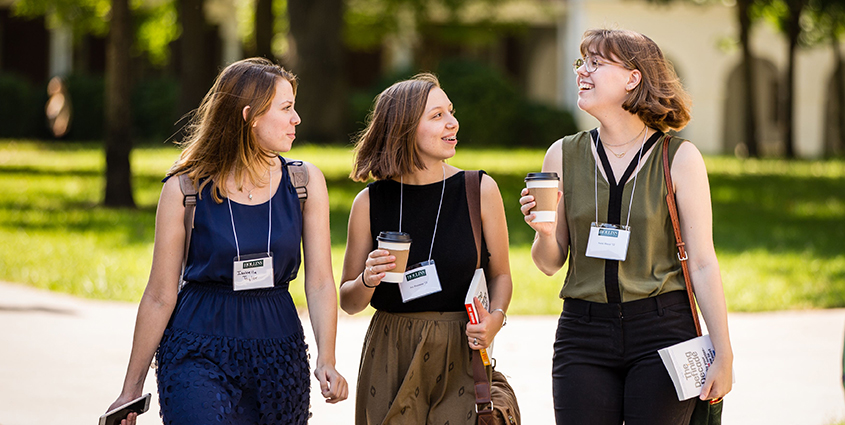 save the dates: September 29 – 30
See the Hollins alumnae/i network in action during Hollins University's 11th Annual Career Connection Conference (C3) taking place Thursday and Friday, September 29-30. Learn from alumnae/i conference leaders who will showcase the lifelong power of a liberal arts education, share their insights on life and work, and help students connect to others in their networks. Whether you are a first year or a senior, a double major or undecided, career-ambitious or career-confused, there is a place for you at Hollins C3!
For the first time ever, the C3 planning team is inviting the Hollins community to submit proposals for conference sessions. Presentations, panels, workshops, and other formats are all welcome, as are programs that you co-present with other community members including students, faculty, staff, and/or alumnae/i.
C3 prioritizes the engagement of Hollins alumnae/i to share about the nature of their professions and pathways. We encourage you to think about potential alumnae/i that may participate in your proposed session as a speaker, panelist, mentor, and/or networker.
We have created both short and expanded forms for sharing your ideas and interest for C3 2022. This is a new way of planning our C3 conference and we welcome your creative thinking as we prepare a vibrant event.
Here is some helpful information for crafting proposals:
Call for Proposals (PDF)
C3 Proposal – Short Form
C3 Expanded Proposal Form
The deadline for proposals is Friday, May 9, 2022.  
More information about the C3 keynote address and other guest speakers will be made available in the coming months. If you have questions, contact Amber Becke (beckeae@hollins.edu) or Jeffrey White (whitejs@hollins.edu) in the Center of Career Development and Life Design.
---
Want to know more?
Contact careercenter@hollins.edu for more information.