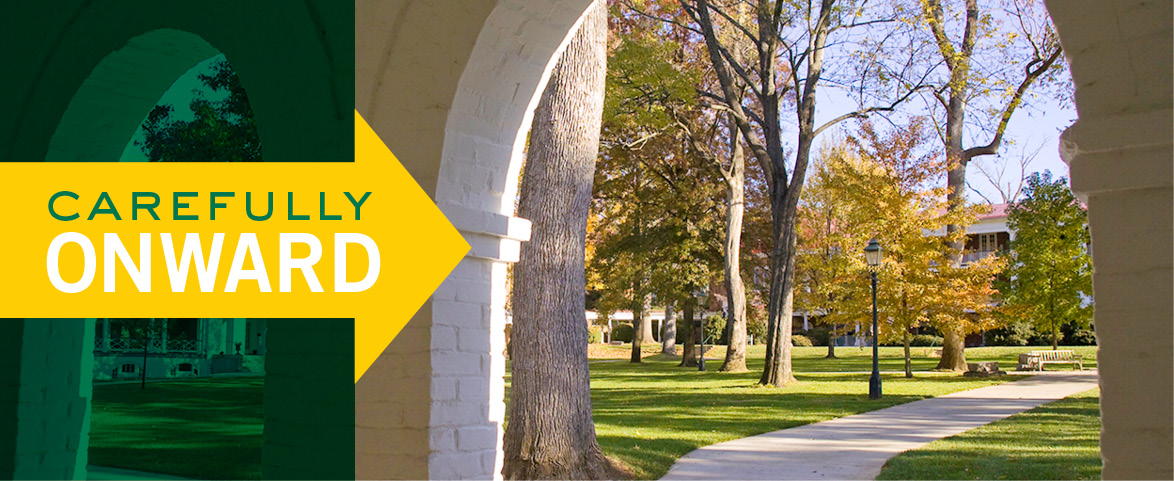 In the summer of 2020, Hollins University developed a "Culture of Care" to help our campus navigate the challenges of managing COVID-19 while moving forward with our educational mission. As guidance from the Centers for Disease Control and the Virginia Department of Health has evolved and data from in and around the Roanoke Valley has changed, so has our approach. With the emergence of both the Delta and Omicron variants, we have continued to adapt swiftly to mitigate the risk of contracting and transmitting COVID-19 in our residential community.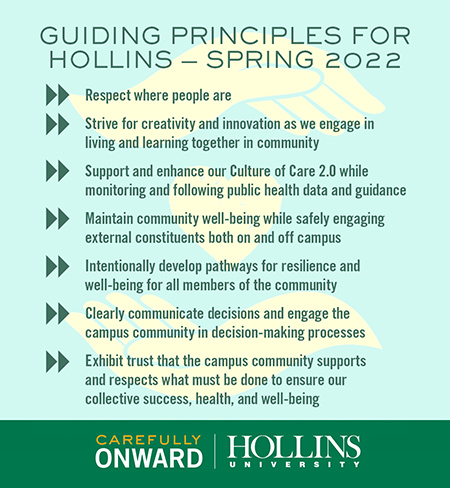 Below is the most recent update (January 26, 2022)  we shared with our students, faculty, and staff regarding Culture of Care protocols. On our Culture of Care 2.0 page, you will find previous communications as well as our initial Culture of Care 2.0 approach as announced in August 2021.
To the Hollins community,
As we prepare for the start of Spring Term next week, we wanted to share some important updates regarding Hollins' Culture of Care 2.0 protocols and our ongoing focus on mutual accountability, collective responsibility, hope, and optimism as we continue to navigate the COVID-19 pandemic.
Returning to Campus: All students must return to campus by Wednesday, February 2, the day Spring Term classes will start. Upon arrival, all students who were not on campus during January Short Term must participate in the required campus COVID-19 PCR testing. Details on this required PCR testing, including the campus testing schedule, will be provided in a separate communication
The Beginning of Spring Term Classes: During the first three days of Spring Term classes (Wednesday, February 2, through Friday, February 4), instructors will have the option of teaching in person or virtually. All classes will be taught fully in person beginning Monday, February 7. Faculty will reach out directly to their students to communicate their teaching modality for these first three days.
Physical Distancing in Classrooms and Residence Halls: We will not reconfigure classrooms as we did during the 2020-21 academic year. However, we do ask that, in all cases and at all times, community members respect the value of physical awareness with others. Unquestionably, maintaining a level of distance between yourself and others helps to reduce risk of transmission.
Based on the trends we saw during January Short Term with an increased number of close contacts and associated positive cases, we ask students in residence halls to strictly adhere to the indoor masking requirement and to continue physical distancing.
Masking: Hollins' guidelines on masking remain consistent with the masking requirement during Fall Term. Masking indoors is required in all spaces other than when alone in your own office or residence hall room (with your roommate), as is masking outdoors when in the presence of others.
Campus Events and Gatherings: As Spring Term begins, we will increase our limit for nonacademic, nonathletic, in-person events and gatherings to 25 people.
Moody Dining Hall: All dining services in Moody will reopen with seating arrangements adjusted slightly to reduce transmission risk. Seating will be available on all three floors of Moody. Please be mindful of physical distance in the dining hall and remove your mask only while actively eating and drinking. Singing, making announcements, and unmasking while not eating/drinking remain prohibited.
Students who were not on campus during January Short Term and are being tested upon their return to campus must get their meals To Go and will be permitted to eat in the dining room after receiving their negative COVID-19 test result.  
Reevaluating Culture of Care 2.0: Experts at the CDC and VDH have announced that COVID's Omicron variant surge may be close to peaking in the Roanoke region. Once we have been able to fully and accurately assess the situation on our campus following everyone's return for Spring Term, we will revisit our Culture of Care 2.0 protocols during the week of February 14 and update the Hollins community accordingly.
As always, we commend you for your understanding and ongoing cooperation as we work together to meet the challenges of the pandemic. We will remain flexible and responsive to this changing landscape, all while supporting one another and privileging everyone's well-being. Please do not hesitate to reach out if you have any questions.
---