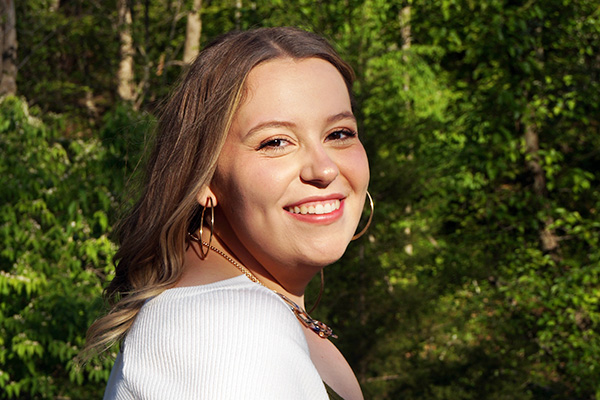 When asked what she plans to do first after she graduates from Hollins this spring, Emma Thomas '22 simply responded, "Breathe." No wonder: The English major and communication studies minor from Roanoke has spent the past three years taking a full course load while putting in 27.5 hours a week (sometimes more during peak periods) working nights as a supervisor at United Parcel Service (UPS). The journey has often been challenging, but Thomas is quick to cite her appreciation for "all the help I've been given across the board" to ensure her success.
When she was originally exploring her options for higher learning, Thomas was disheartened by the potential price tag until she discovered that her high school participated in the Community College Access Program with nearby Virginia Western Community College. The public/private partnership offers free tuition for qualified students to earn an associate degree. "I realized I could go to college for free for two years and satisfy most of my general education requirements for a four-year institution," Thomas explained.
Financial assistance was a major consideration when Thomas opted to transfer to Hollins after finishing at Virginia Western. "Hollins was willing to offer me a ton of financial aid," she said. The university was also close to home and she would be able to continue her job with UPS, with whom she begun working a year earlier. The company provided her with $5,000 per calendar year to help pay for college.
But from the moment she toured the campus as a prospective student, Thomas said choosing Hollins went beyond economics. "They allowed us to sit in on classes and when I saw what instruction is like here, I really fell in love with Hollins. I'd always kind of hated school because you were just there to have stuff dumped into your brain. A Hollins education doesn't feel like that. They're going to tailor things to you, your experiences, and your interests. Once I saw the small class sizes and how interactive everything is, I knew I would be fine."
A lover of both reading and writing, Thomas decided she would major in English. "The thing that strikes me the most about the English department is how passionate the professors are about their subject," she said. "You could walk into Swan (Swannanoa Hall, home to the English department and the Jackson Center for Creative Writing) and pop into any office and say, 'Hey, tell me about your favorite book' or 'Tell me about your area of study,' and you'd probably be in their office for hours, which is great. I've had instructors in the past where teaching is just a job for them. That's not how it feels in the English department."
Thomas added that she has treasured the encouragement she has received from the English department faculty to write in her own voice. "My brain doesn't go in a straight line. It takes detours. But even when my writing style wasn't quite what a particular professor was looking for, if what I wrote was thought out and the threads could be followed, I was never going to get a bad grade."
Thomas also declared a minor in communication studies because it "married the things I like. Yes, there was a little bit of writing, but I also like to talk." Thomas said she has enjoyed the opportunity to delve into human interactions and gain "a little better understanding of why people are the way they are. Everything they teach in communication studies is applicable to your daily life. As someone who has been working while in school, pretty much every day I learned interpersonal communication skills that I could implement to make my working life better, especially in an environment where I'm one of just a handful of women and probably the youngest person there."
Those strategies have also contributed to Thomas' ability to juggle taking day classes at Hollins with working a regular weeknight schedule of 5 to 11 p.m. at UPS. Her daily routine requires "scheduling my life to the nth degree." Often, she has to forego socializing with friends or taking part in other activities to tackle school and work responsibilities. She admits it has been difficult at times.
"From the outset, I let my professors know my situation. I was going to show up and try, but there were going to be occasions when I might slip behind or have to turn an assignment in late. At UPS, my supervisors allowed me to use my downtime for homework. So, it really has been communication and organization that has kept me afloat. And, a little bit of luck and magic, because I really don't know sometimes how it all got done."
Among Thomas' achievements at Hollins are two podcast projects she developed this year in courses taught by Visiting Lecturer of Communication Studies and Director of Oral Communication Across the Curriculum Heather Derrick, whom Thomas called "a wonderful teacher." The first occurred during Derrick's January Short Term class entitled "Listening in the Modern World." It gave Thomas and other students a crash course in podcast production.
"We had about a week to do research, organize interviews, learn how to use recording equipment, and build our editing skills to produce several short episodes," she said. The work resulted in a podcast series called "Listening for Life," where students focused on aspects of listening theory that they learned about in class, interviewed outside guests about those aspects, and concluded each episode by delivering tips on how people could employ listening skills in their daily lives.
Derrick's spring term course, "Argumentation and Advocacy," offered Thomas an entire semester to help in preparing a longer, more in-depth podcast series. "It was more like what you would be doing for a real-life podcast. It was a lot of research and a lot of drafting."
Inspired by the acclaimed, bestselling book Dopesick by Beth Macy M.A. '93, The class produced a podcast series entitled "Miracle Drug," which focuses on the deception used by the pharmaceutical company Purdue Pharma to persuade people that the drug Oxycontin was safe and effective. "We mainly focused on why this happened, the arguments that allowed this to happen, and what to do next. Faculty and outside voices helped us to contextualize our information and advocate for those who are struggling with opioid addiction. Even though Purdue is now facing consequences, the effects of those consequences may punish the company but they really aren't helping people addicted to opioids who need treatment. So, our goal was to highlight what had occurred and then bring in a human lens." Thomas produced the episode entitled "Purdue v. America," and the "Miracle Drug" podcast will premiere in June.
While taking some time to catch her breath after graduation, Thomas will be figuring out what she wants to do next. "I'm interested in project or program management, and I want to make connections with people who are already doing that in this area to see if they'd be willing to mentor me or offer me an internship." In the meantime, she plans to keep working at UPS.
As she reflects on a very hectic, very demanding, but ultimately satisfying three years at Hollins, Thomas is proud of what she has been able to accomplish. She is also grateful to the many people who have advocated for her along the way. "I am so thankful for the faculty and staff here at Hollins who have made this a lot easier for me. They supported me when I came to them for help, but even if I hadn't said anything I would have been given similar grace. I also appreciate how they run their classrooms in general – our professors make students feel like people instead of numbers. I don't think I would have made it this far anywhere else."
Photo credit: Raina Peterson