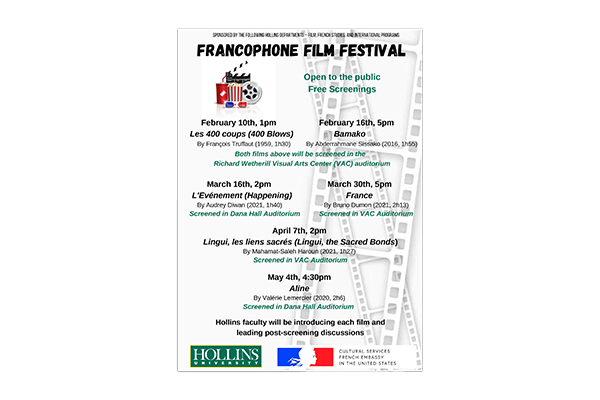 Throughout Spring Term 2023, Hollins University's Departments of Film, French Studies, and International Programs are presenting an array of film screenings as part of the Francophone Film Festival. The festival is made possible through a grant from Albertine Cinematheque, a program of FACE Foundation and Villa Albertine, with support from the CNC (Centre National du Cinema) and SACEM (Fonds Culturel Franco-Americain).
"This is the second time that Hollins has received this grant to offer excellent Francophone cinema to the Hollins community and beyond," said Director of International Programs Ramona Kirsch. "The films are from an array of Francophone countries and display the diversity found in French-speaking cultures."
The festival schedule includes the following screenings. Each will be introduced by Hollins faculty, who will also lead post-screening discussions. Admission is free and open to the public.
Les 400 coups (400 Blows) (1959)
Screening: 1 p.m., Friday, Feb. 10, Niederer Auditorium, Wetherill Visual Arts Center
Country: France
Runtime: 90 minutes
Director: François Truffaut
Synopsis: "The 400 Blows traces 14-year-old Antoine Doinel's odyssey through a life of aloof parents, oppressive teachers and petty crime. A loner on the brink of rebellion, Antoine is buoyed along the way by a touching friendship, a love of cinema, and the hope of escape." – mubi.com
Facilitator: Kenza Chabane
Bamako (2006)
Screening: 5 p.m., Thursday, Feb. 16, Niederer Auditorium, Wetherill Visual Arts Center
Country: Mali
Runtime: 115 minutes
Director: Abderrahmane Sissako
Synopsis: "An extraordinary trial is taking place in a residential courtyard in Bamako, the capital city of Mali. African citizens have taken proceedings against such international financial institutions as the World Bank and the International Monetary Fund (IMF), whom civil society blames for perpetuating Africa's debt crisis, at the heart of so many of the continent's woes. As numerous trial witnesses (schoolteachers, farmers, writers, etc.) air bracing indictments against the global economic machinery that haunts them, life in the courtyard presses forward. Melé, a lounge singer, and her unemployed husband Chaka are on the verge of breaking up; a security guard's gun goes missing; a young man lies ill; a wedding procession passes through; and women keep everything rolling – dyeing fabric, minding children, spinning cotton, and speaking their minds." – Icarus Films
Facilitator: Jeanne Jégousso
L'Evénement (Happening) (2021)
Screening: 2 p.m., Thursday, March 16, Babcock Auditorium, Dana Science Building
Country: France
Runtime: 100 minutes
Director: Audrey Diwan

Synopsis: "France, 1963. Anne is a bright young student with a promising future ahead of her. But when she falls pregnant, she sees the opportunity to finish her studies and escape the constraints of her social background disappearing. With her final exams fast approaching and her belly growing, Anne resolves to act, even if she has to confront shame and pain, even if she must risk prison to do so…" – happeningmovie.com 

Facilitator: Abubakarr Jalloh
France (2021)
Screening: 5 p.m., Thursday, March 30, Niederer Auditorium, Wetherill Visual Arts Center
Countries: France, Germany, Italy, Belgium
Runtime: 133 minutes
Director: Bruno Dumon
Synopsis: "A celebrity journalist, juggling her busy career and personal life, has her life overturned by a freak car accident." – IMDb.com
Facilitator: Jeanne Jégousso
Lingui, les liens sacrés (Lingui, the Sacred Bonds) (2021)
Screening: 2 p.m., Friday, April 7, Niederer Auditorium, Wetherill Visual Arts Center
Country: Chad
Runtime: 87 minutes
Director: Mahamat-Saleh Haroun
Synopsis: "On the outskirts of the capital of Chad, determined single mother Amina works tirelessly to provide for herself and her 15-year-old daughter Maria. When Amina discovers Maria is pregnant and does not want a child, the two women begin to seek out an abortion, condemned by both religion and law." – mubi.com
Facilitator: Lindsey Breitwieser
Aline (2020)
Screening: 4:30 p.m., Thursday, May 4, Babcock Auditorium, Dana Science Building
Country: Canada
Runtime: 126 minutes
Director: Valérie Lemercier
Synopsis: "Quebec, late 1960s, Sylvette and Anglomard welcome their 14th child: Aline. In the Dieu family, music reigns supreme and when Aline grows up we discover a gift to her, she has a golden voice. When he hears that voice, music producer Guy-Claude has just one thing in mind – to make Aline the greatest singer in the world. Supported by her family and guided by the experience and then the budding love of Guy-Claude, they will together write the pages of an extraordinary destiny." – IMDb.com
Facilitator: Kenza Chabane