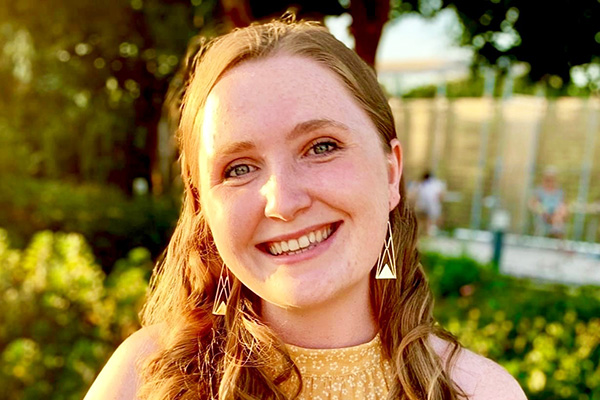 When Meika Downey '17 entered Hollins University as a first-year student, she brought with her a keen fascination with 20th century military history. Her undergraduate career as a history and political science double major would subsequently inspire in her a zeal for social, gender, and minority history. Thus, it's not surprising that when Downey later chose to pursue a Master of Arts in history at Virginia Commonwealth University (VCU), she enrolled with two certainties: she wanted the challenge of a thesis concentration, and with her thesis she intended to explore a topic that encompassed as many of her interests as possible.
"I realized that the historiography of U.S. military desegregation in the mid-20th century was an almost exclusively male-dominated narrative, and I wanted to disrupt this trend by crafting a fuller and more inclusive historical interpretation," Downey recalled. "To that end, I wondered how American women – particularly women of color – experienced and contributed to the vital process of racial integration of the armed forces in the 1950s."
This approach became the basis for Downey's graduate thesis, "'Island of Integration': Desegregation of the Women's Army Corps at Fort Lee, Virginia, 1948 – 1954," which looked at how the national training center for the Women's Army Corps (WAC) during the Korean War era desegregated all barracks, mess halls, bathrooms, and recreational facilities in April 1950, four years before the larger, more established male Army completed the process.
"I wanted to examine how and why the women at Fort Lee came to desegregate its ranks with relative ease and tolerance at mid-century," Downey explained. She conducted oral histories with WAC veterans who trained at Fort Lee during that time period, including interviews with nine racially diverse women about their experiences. "The WAC wasn't necessarily seeking to promote racial equality. There simply weren't enough Black women enlisted to merit segregation any longer." Still, she said, "the swift manner in which these women, now in their late 80s and early 90s, positively responded to the call to desegregate not only fostered an amicable environment in which to train and live, an 'island of integration in an otherwise sea of segregation,' but also set precedents for other branches and bases in the military."
With her work, Downey charted new historiographical territory and overcame a lack of secondary literature on the topic. "The majority of these women had never before been interviewed about their WAC service, let alone race relations therein, and they were generous with their time and memories. My thesis used oral history to conceptualize the racial culture of the WAC at Fort Lee and recreate 1950s basic training for modern readers."
Downey was awarded the 2020-21 VCU Graduate School Outstanding Master's Thesis Award in the Humanities and Fine Arts category, and her oral history interviews will be donated to the U.S. Army Women's Museum at Fort Lee. She is currently developing an article based on her thesis to submit for publication.
After earning her M.A. in history and a certificate in public history this spring, Downey reflected on how her Hollins education prepared her for success in graduate school and beyond.
"Academically, professionally, and personally, my time at Hollins was a transformative experience and informed who I am now. Studying under [Associate Professor of History] Peter Coogan and [Associate Professor of History] Rachel Nuñez in the history department inspired a curiosity to learn about and question the world around me and the world that existed before me.
"Perhaps the most important and transferable skills with which I emerged from Hollins were the abilities to think critically and communicate orally and in writing.  The academic rigor with which Professor Coogan and Nuñez taught their classes also invariably prepared me for graduate school."
Additionally, Downey credits the four internships she completed as an undergraduate for enhancing her professional development. "I was fortunate to have identified early on that I wanted to pursue a career in public history at a museum or historic site," she said. "My internships with the Virginia Historical Society (with Lizzie Oglesby '03 and special thanks to Carey Wodehouse '03), Appomattox Court House National Historical Park, John F. Kennedy Hyannis Museum (special thanks to Priscilla Geraghty '74), and the National D-Day Memorial (with April Cheek-Messier '94) introduced me to the field of public history and helped me develop a passion for museum education."
Downey is now preparing to embark on what she describes as "a dream position" as education manager with Preservation Virginia's John Marshall House. Located in Richmond, the brick structure dates back to 1790 and was home to the longest serving and arguably most influential Chief Justice of the United States, his family, and about 10 to 12 enslaved people. "I am very excited about this job because it allows me to implement the training, experience, and enthusiasm I've garnered from part-time museum jobs and internships from the past four years."
Hoping to build the John Marshall House's presence in the community, Downey is looking forward to "creating educational content pertaining to Marshall, his career, and the nuances of Early America, as well as programming about the Supreme Court, its justices, and rulings across the decades. I also plan to continue to broaden the John Marshall House's historical interpretation by expanding our knowledge and understanding of the enslaved people Marshall owned during his lifetime. I want to develop a diversity of public and school programs and welcome lots of school groups to the House."
Reaching these goals, Downey noted, will mean using the "skills and competencies that Hollins taught me every day. Inside and outside the classroom, I learned to embrace challenges. I felt empowered to chase my dreams, confident in seizing opportunities, and bold in asking questions. I know how to think for myself, conduct research, and draw and defend my own conclusions. And, I've never stopped building upon those skills since I graduated."