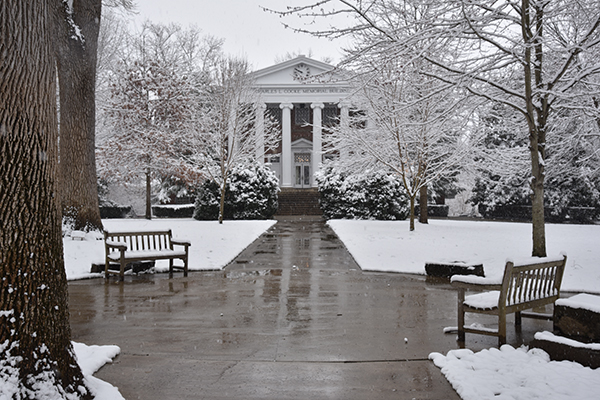 As Hollins students rejuvenate from a challenging fall semester and prepare for what will be an equally demanding spring semester by enjoying an extended Winter Break, they will be able to remain engaged and connected, both academic and socially.
Hollins is planning a calendar of online curricular and cocurricular activities and events during what normally is January Short Term (J-Term) that is both entertaining and educational and designed to appeal to a wide array of interests.
Students wishing to focus on keeping healthy in both body and mind can take part in a weekly wellness series as well as virtual yoga and guided meditation classes and "Stress Free Sunday" sessions intended to help oneself thrive during difficult times. The schedule of events will also feature discussions on topics ranging from literature, works of art, and career preparation to trans justice, spirituality and LGBTQIA, Korean culture, implicit bias, and building cultural humility. Students who wish to take a "digital deep dive" can earn a Digital Technology in the Workplace Certificate, while those who want to pursue international learning experiences can register for "Travel Tuesdays" and "World Wednesdays" and also try their hand at global literacy quizzes.
Creativity in the arts will be showcased. Students can crochet and knit; make collages, linocut prints, mobile paper sculptures, zines, and postcards; build their skills in writing with sensory detail, on social justice, and in short forms; virtually explore the Eleanor D. Wilson Museum; and watch via Zoom livestream the annual Hollins – Mill Mountain Winter Festival of New Works, featuring exciting new plays by Hollins playwrights.
In addition, students can learn more about various campus initiatives. Faculty members will talk about their current research or creative work, and the  university's Working Group on Slavery and Its Contemporary Legacies will conduct listening sessions.
And, there will be lots of fun activities, including virtual "Get to Know Hollins" scavenger hunts, a photo/video contest, a murder mystery party, a virtual tabletop role-playing game, a trivia night, bird watching, and that year-round Hollins favorite, Bingo Night.
On Monday, January 18, a special prerecorded program honoring the life and work of Martin Luther King, Jr. will be made available for viewing throughout the day, which will feature Hollins President Mary Dana Hinton's presentation, "Why Goodwill Is Not Enough." Members of the class of 2024, University Chaplain and Director of Spiritual and Religious Life Catina Martin, Associate Dean of Cultural and Community Engagement Jeri Suarez, and Caitlyn Lewis, graduate assistant in Cultural and Community Engagement, will also participate in the program.
Because the COVID-19 pandemic is expected to continue having an impact nationally well into the coming year, Hollins announced in early October that students will not be returning to campus for J-Term this year and residence halls will remain closed. In-person, virtual, and/or hybrid seminars will not be offered during this year's session, and the J-Term academic requirement for credit has been suspended for the 2020-21 academic year. Virtual internships, independent study projects, and remote theses are the only activities that will be approved for credit this J-Term.
Spring Term classes, which will be taught in-person, online, or through a hybrid mix of those forms of instruction, will begin on February 10, 2021.