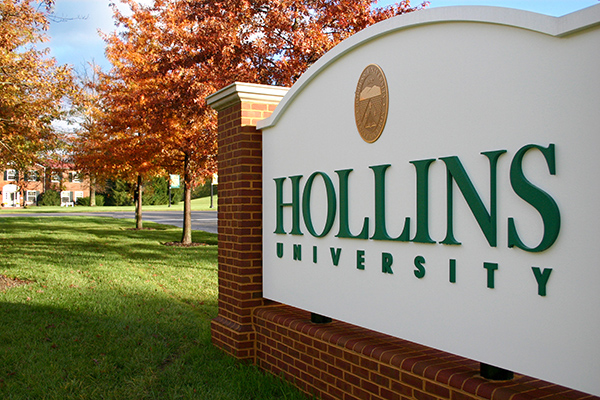 Starting this fall, Hollins University is awarding Virginia Community College System (VCCS) graduates who transfer to the institution full credit for completion of the university's general education requirements.
The new policy supports VCCS students who earn qualifying associate's degrees after the conferral of their high school diploma as they seek to complete a four-year bachelor's degree in the humanities, social sciences, natural sciences and mathematics, or the fine arts.
Laura McLary, Nora Kizer Bell Provost at Hollins, praised the VCCS for the important role it plays in supporting students who wish to pursue a four-year degree.
"Existing data indicate that students of color, first-generation college students, and students with limited financial resources are more likely to attend community college than white students, students with family members who have attended college, and students with greater financial resources," she said. "Hollins is excited to take this step to acknowledge the work of VCCS students, and welcome more transfer students into the rich tapestry of our community."
McLary explained that VCCS graduates today benefit from "a robust general education curriculum designed to emphasize academic exploration of the liberal arts. This approach mirrors our own general education program at Hollins, which stresses what a student needs to be successful in the workplace and in life."
Hollins' Vice President for Enrollment Management Ashley Browning added, "This policy represents an important step in Hollins' goal to become a more transfer-friendly institution. In addition to our scholarship guarantee of $20,000 for transfer students, this policy for VCCS students allows us to clearly communicate that we are confident that they are ready to be successful here. Already, transfer students who attend Hollins graduate at impressive rates: 87.5% of transfer students who attend Hollins graduate."
The new transfer guidelines do not guarantee that a student will be able to complete a bachelor's degree in two years following receipt of a qualifying associate's degree. McLary noted, however, that VCCS students will have the benefit of jumping directly into courses focused on their intended area of study.
For more information about transferring to Hollins, visit the university's webpage for transfer students or email transfer@hollins.edu.
Hollins is an independent liberal arts university offering undergraduate liberal arts education for women and selected graduate programs for women and men. Founded in 1842, the university features 29 undergraduate majors and 15 coed graduate and certificate programs. Hollins is also home to a nationally recognized creative writing program; the innovative Batten Leadership Institute; and the Rutherfoord Center for Experiential Learning, which encompasses study abroad at an array of destinations around the world, domestic and international internships with top tier businesses and organizations, and research opportunities in a range of fields.