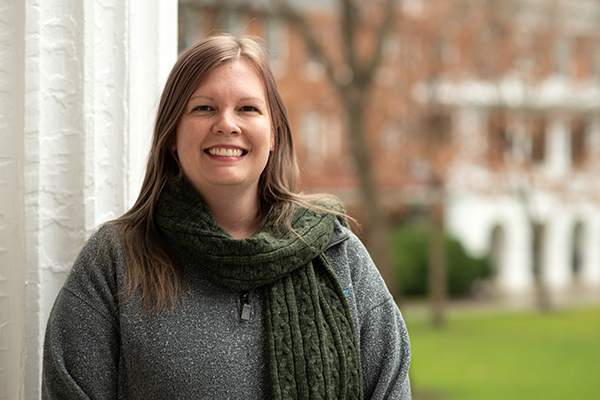 She admits that including it in her creative arsenal might be "a bit taboo," but Erin Masarjian '25 has no qualms about occasionally harnessing the power of glitter to accentuate her art.
"The pop that it can provide is really fun," the studio art major explains. "That's what I think glitter does. When you're in a dark room or place, you can still have a little bit of light."
Masarjian's use of glitter in her work underscores her eagerness to, as she says, "break all the rules," and her approach is beginning to garner attention. Roanoke's Art on 1st, which showcases emerging and aspiring artists, is featuring two of her pieces in its Pop Art Exhibition, which continues through March 11. Three more of her works can be seen in "The Healing Power of Hope," a multimedia exhibit presented through May 8 by the Virginia Tech Carilion School of Medicine and the William King Museum of Art.
"I just put my entire heart into it. Whatever comes out is what comes out," she says of her artistic philosophy. "Good, bad, ugly, strange…I just go with it."
Art has played an essential role in Masarjian's life since she was a kindergartener in Florida. "I remember the teachers showing us how to draw smiley faces with two dots and a smile, and I said, 'No, there are eyelashes, eyebrows, nostrils – it's more than that!' Then, I created something in elementary school that was subsequently displayed. That was the first time I felt recognized."
Masarjian was further encouraged by her family. "They supported me a thousand percent. My grandpa would say, 'I want you to work at Disney, I want you to be an animator,' and I was always doing artsy things with my aunts. There was this daily reminder, 'You can do this.'"
About ten years ago, Masarjian decided to fully focus on her art. By that time, she was living in Roanoke and employed at a dental office. "Luckily, they were very helpful and worked with me. I was able to enroll at Virginia Western Community College."
She studied at Virginia Western under Sue Steele Thomas, a world-renowned watercolorist and one of the top automotive painters in the world. For Masarjian, the experience infused her passion for art with the influence of a good mentor. "She is a true master. I took in a lot when I was working with her and I give her a lot of credit for the technique that I learned."
When she felt she had absorbed as much as she possibly could at Virginia Western, Masarjian set her sights on completing the next step in her artistic journey at Hollins University. Hollins, she says, had attracted her with its beautiful campus. It became familiar to her through numerous public events she attended prior to the COVID-19 pandemic.
"It was a dream, really," she recalls. "When I was younger, I thought, 'Maybe one day I'll come here.'" Her wish came to fruition last year when she was accepted at Hollins through the university's Horizon program.  "I'm still in shock sometimes. I'm so happy about it."
Even though she is only in her second semester, Masarjian believes coming to Hollins is "already helping me to grow as an artist. I can see and feel the difference in my work. I took a printmaking class last semester, something I hadn't really had any experience with before, and this semester I'm taking a painting class and a drawing class. Through experimentation and trying different things, I'm expanding my practice and informing my work in new ways."
Masarjian praises the art department, not only for its physical resources ("the studios are gorgeous and the materials available for artists are wonderful") but also for the professors who have built upon the foundation she cherished at Virginia Western. "Everyone is super nice, super helpful and knowledgeable, and the faculty promote an atmosphere where you're comfortable talking about art, artists, and technique. It's refreshing to be in that kind of environment."
The mentoring that faculty have provided is also appreciated. "My inspiration comes from everywhere and I do a lot of work with found materials (organic or manufactured objects that an artist may favor for their inherent creative value). Sometimes when I see these materials, I'm struck by an idea and that idea stays with me until I get it out. I always have ten million ideas that I want to do, and my professors help me find the focus I need to complete the work."
The two Masarjian pieces that are on display at Art on 1st are both found canvases. The main piece features mixed media with three separate canvases framed together. It is abstract, colorful, and vibrant. Of the three works she has featured in "The Healing Power of Hope," two came out of her printmaking class last semester. She considers one of those, "Composition Joy," to be among her favorite pieces. And yes, glitter figures prominently in both the mixed media work and in "Composition Joy."
"The sparkles are bits of possibility. It's another tomorrow even if you don't know what it will bring. When I look at 'Composition Joy,' it brings me joy and it brings me hope. The colors are soothing."
Masarjian is especially proud of two other venues where her art has been showcased. At a Virginia Western student show, she was thrilled when someone purchased one of her works. "I don't even know who the person was," she says, but it was deeply gratifying to her that someone "found meaning in my piece." Recently, she received her first magazine exposure when Oyster River Pages included a work she submitted.
One of Masarjian's most ambitious projects to date is currently in progress. When finished, "The Shark Wall" will feature 40 individual paintings of sharks (she's completed 17 thus far) that she hopes will eventually find a home at an aquarium, science museum, or conservatory somewhere in the world.
The wall is intended to highlight "the vulnerability of sharks, but in a way it's also a reflection of me having grown up on the Florida coast. So, I see it having a dual purpose: first, to raise awareness about the environment, climate change, and our oceans – this is our world, we're all here together, let's take care of it. And second, the wall is a statement of who I am as an artist."
After Hollins, Masarjian is looking to pursue artist residency opportunities throughout the country. "Truly, my passion is in creating. This is how I live and breathe. I want to be a positive force. I want love to come from my work."
She adds, "A lot of this is part of Hollins' doing, and working in the art department someday would be a lovely goal as well. It's just so welcoming and I enjoy it so much."