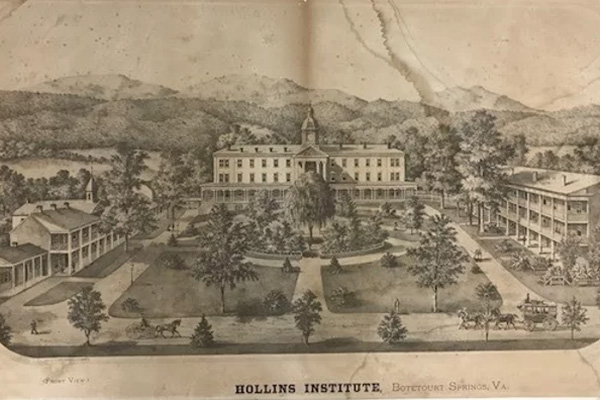 An online exhibition developed this spring by Hollins University students is shedding important light on the institution's past and present.
"Unveiling the Past: Reckoning with Our History of Enslavement at Hollins" is based on archival research conducted by students in the Cultural Property, Rights, and Museums course taught by Ashleigh Breske, visiting assistant professor in global politics and societies. The class collaborated with Hollins' Eleanor D. Wilson Museum and Wyndham Robertson Library as well as members of the university's Working Group on Slavery and Its Legacies, whose goal is to "research and educate the public about Hollins University's historical connections to enslavement and the contemporary legacies of slavery on campus, within the neighboring historic Hollins community, and throughout the Greater Roanoke Valley."
"The students hope their work will highlight the need for a continuing dialogue on histories of enslavement at Hollins and the legacy still experienced today," Breske says in her foreword to the exhibition.
The Background section of the exhibit adds, "Those working on this exhibit wanted to create a public space to reckon with our Hollins past and give a forum to those who were not given a voice, name, space, or attention in the past."
"Unveiling the Past" was originally scheduled to be displayed this month at the Wilson Museum. However, Breske's class had to transition their research into a virtual format when the museum closed to the public as a result of the COVID-19 pandemic.
Breske states that the students' work in this endeavor is ongoing, noting, "The class will also later write reflection papers interpreting their experiences with this project to be included in the archival material on this exhibit for the Working Group."