Jon Bohland, Associate Professor and Director, International Studies
Jon Bohland has been teaching at Hollins since 2002 and is the rare Hollins faculty member that is actually from Southwest Virginia (Blacksburg). His life embodies the connections between religion and politics explored in the class: While Bohland is a political geographer with research and teaching interests in critical and popular forms of geopolitics, his wife and research partner Leann is an archaeologist and religious studies scholar. Bohland has published scholarly work focused on diverse topics such as understanding international relations theory through science fiction, collective memory studies in the American South and in Israel, and the rise of transnational identities within international football. Outside of work. he watches too much television, listens to lots of '90s indie rock and podcasts, enjoys local craft beers and cooking, and is a huge Hokie and global soccer fan. He and Leann live most of the time in Winston-Salem, NC, with their three kids, two cats, and a rabbit.
---
Vladimir Bratic, Associate Professor, Communication Studies
Professor Bratic came to Hollins in the fall of 2006 after receiving his Ph.D. in mass communication from Ohio University. Prior to coming to the United States, Bratic lived in the Czech Republic where he graduated from the Faculty of Pedagogy and Philosophy at the Palacky University. He is originally from Sarajevo, Bosnia and Herzegovina, where he began his research on the role of the media in conflict and peace. He has published journal articles and teaches about how media can help promote peaceful transformation of violent conflict across the world.
---
Matthew Burnside, Visiting Assistant Professor, English
Matthew Burnside is the author of four books and several digital experiments, most recently Wiki of Infinite Sorrows (KERNPUNKT). He is particularly interested in literary conceptions that prioritize multimodal playfulness, possibility, interactivity, and various degrees of gamification. His favorite fairy tale is The Boy Who Drew Cats.
---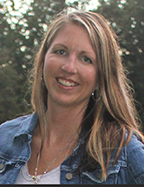 Mary Jane Carmichael, Assistant Professor, Biology and Environmental Studies/Environmental Science
Mary Jane Carmichael grew up in Winston-Salem, NC, in the heart of Tobacco Road. After receiving her B.S. from Wake Forest University, she taught high school biology for six years. Following a trip to Yellowstone in the winter of 2009, she made the decision to leave the K-12 world to pursue graduate studies in microbiology. She received her M.S. in geomicrobiology from Appalachian State University in 2012, followed by her Ph.D. in biogeochemistry from Wake Forest University (#proudtobeaDoubleDeac) in 2017. Her research has taken her from the mountains to the sea, from belly crawling in the caves of eastern Tennessee to losing gallons of sweat in the swamps of coastal North Carolina in the heat of the summer. Carmichael's research program at Hollins seeks to understand the fundamental relationships that govern the interactions between above- and belowground processes and link the metabolic activities of earth's only two groups of primary producers: plants and microorganisms. In her free time, you can find her and her daughter, Reesa, and dog, Murphy, hiking the Appalachians and paddleboarding at Carvins Cove. But, if it's the summer, you'll probably find her basking in her hyperthermophilic nature, either at the pool or beach.
---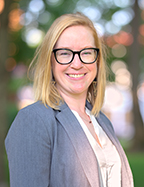 Meg du Bray, Assistant Professor, Environmental Studies/Environmental Science
Meg du Bray was born and raised in Colorado, and she spent much of her early life learning the terrain of the mountains. She attended Whitman College in Walla Walla, WA, where she received a B.A. in anthropology (with minors in politics and biology). After taking a year off and working for the School for Field Studies in Australia, and then working at a garden center in Colorado, she went on to receive her master's and Ph.D. in sociocultural anthropology at Arizona State University. Her research focuses on understanding the connection between people and the environment, particularly when it comes to water and climate change. When not working, she can be found baking, gardening, and running and hiking with her two dogs.
---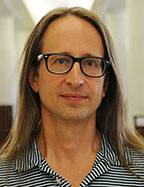 Brian Gentry, Visiting Assistant Professor, Physics, Pre-Health Advisor
Brian Gentry has been teaching physics and environmental science at Hollins since 2013. His path to Hollins, however, has been decidedly nonlinear. After dropping out of college on the first try, his legal activities included studying and teaching kung fu, working as a cook and a carpenter, taking up political activism, fronting several unnoteworthy bands, and traveling in the U.S. and Europe. Eventually, he returned to college and began his graduate training in physics at the Center for Nonlinear Dynamics at UT Austin before being lured to the Institute for Soft Matter Physics at the University of Leipzig, Germany, by the prospects of becoming an ex-pat and a near-infinite supply of German and Czech beer. He completed his Ph.D. in 2009 and subsequent postdoctoral research at the Institute for Atomic and Molecular Physics (AMOLF) in Amsterdam, The Netherlands, in 2012. For some reason he returned to his native Virginia, where he currently annoys both his two children and students at Hollins by always answering their questions with more questions and constantly talking about systems science. As a biophysicist, his research interests are in the self-organization of living matter.
---
Amy Gerber-Stroh, Associate Professor, Film
Amy Gerber-Stroh received her B.A. in film at Pennsylvania State University and her M.F.A. in film/video from the California Institute of the Arts. Gerber-Stroh has a passion for all aspects of filmmaking but especially loves directing and producing. Gerber-Stroh's films have won honors at numerous film festivals and professional venues, including Edinburgh International Film Festival, Mill Valley Film Festival, Film Forum, Los Angeles, and Women in the Director's Chair, Chicago. She also directed films for the Los Angeles County Museum of Art from 1993 to 1996. She has gained significant professional film experience in Hollywood while working on 12 major motion pictures including The Mask of Zorro (Columbia Pictures), Goldeneye (MGM), Afterglow (Sony Pictures Classics), Tank Girl (United Artists), and Angels in the Outfield (Disney). Her last film, Do Cell Towers Dream of Morse Code has been selected for several film festivals and won the Silver Award for Experimental Film at the University Film and Video Association in 2020. She is currently producing a feature film about her great grandparents escaping slavery from Wilmington, NC. When she is not teaching and filming, she squeezes in family time, badminton, fly fishing, motorcycling, playing viola, and listening to Radio Lab on WNYC.
---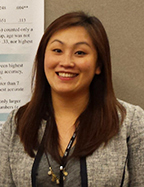 Seung-Hee Han, Assistant Professor, Psychology
Seung-Hee Han received her Ph. D. from the University of Missouri. She joined Hollins in the fall of 2020. Her research focuses on the trait characteristics and family contexts that foster children's school readiness and positive development, particularly for underrepresented children at risk due to adverse childhood experiences such as poverty. She also studies how cultural factors influence parenting and children's development.
---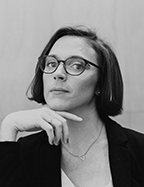 Jeanne Jégousso, Assistant Professor, French
Jeanne Jégousso left her native country of France in 2011 to complete her graduate studies in the United States. After receiving her Ph.D. in French studies at Louisiana State University, she joined Hollins in July 2019 where she is an assistant professor of French studies. Jégousso specializes in literatures written in French in the Caribbean and the Indian Ocean. She is the codirector of the Library of Glissant Studies (www.glissantstudies.com), a digital bibliography focusing on the work of Martinican author Édouard Glissant (1928-2011). She has published several articles focused on contemporary Caribbean literature and co-edited the volume Teaching, Reading, and Theorizing Caribbean Texts (Lexington Books, April 2020). Jégousso enjoys screening French and Francophone movies on campus, and she attends the French table held in Moody as much as she can. In January 2022, she hopes to travel to the French Caribbean with a group of students to attend a theatre festival held on the island of Martinique. During her spare time, she enjoys listening to vinyl, complaining about the cold, and attending SocaRobics and Caribbean-inspired dance classes.
---
Ed Lynch, Professor, Political Science
Ed Lynch is professor and chair of political science at Hollins. He received his Ph.D. in foreign affairs from the University of Virginia. He has also been a professor at UVA, at the University of Mary Washington, and Villanova University, and has taught part time at Ferrum College and Roanoke College. He is the author of five books, with three more forthcoming, and numerous scholarly articles. Besides his academic accomplishments, Lynch also worked on Capitol Hill for the chair of the Senate Subcommittee on Terrorism and in the White House Office of Public Liaison. Currently, he is an opinion contributor to TheHill.com, Washington's most widely read commentary website. He is also political analyst for WSLS-10 in Roanoke, an affiliate of NBC. Lynch has traveled to over 110 countries as a researcher or a tourist.
---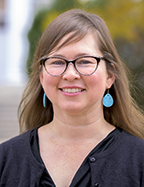 Andrea Martens, Visiting Assistant Professor, Art
Andrea Martens is thrilled to be a faculty member in the art department at Hollins. She teaches printmaking and drawing courses, as well as first-year and senior seminar classes. Martens received her M.F.A. in printmaking from Colorado State University and received her Post-Baccalaureate Certificate in studio art from the School of the Museum of Fine Arts, Boston. She holds a Bachelor of Science degree in psychology from Virginia Tech with minors in art and biology. Martens is vested in the role of the artist within our societal context, and her research in mixed-media printmaking examines the human-animal relationship and issues of open space and confinement, as well as physical and psychological space in contemporary industrial society. Martens has been a member of the Boston Printmakers since 2008, and her research has been exhibited nationally and internationally. She has enjoyed doing artist residencies in New Zealand, Venice, Italy, and Vermont, USA. In addition to teaching and creating in the studio, Martens' passions include swimming, Nordic skiing, and practicing yoga and meditation in her free time.
---
Rachel Nuñez, Associate Professor, History
Rachel Nuñez remembers first falling in love with history over biographies of Eleanor of Aquitaine and Anne Boleyn and still can't believe she gets paid to talk about history on a daily basis. After picking up a B.A. at Rice University and a Ph.D. at Stanford, she arrived at Hollins in 2008. She received her B.A. in history and French at Rice and her Ph.D. at Stanford. She teaches courses on modern European history; the history of women, gender, and sexuality; and the history of empire and nationalism. In recent years, she has integrated role-playing games into several of her courses. She has taught for many years in the first-year seminar program and loves teaching and mentoring first-year students. In her spare time, she enjoys hanging out with her husband and two boys, travel, cooking, and movies (her favorite movie is The Big Lebowski).
---
Christopher Richter, Professor, Communication Studies
Christopher Richter cultivated his passion for visual and textual communication while studying television production as a graduate student at The Ohio State University. Shortly after arriving at Hollins in 1995 he met Christina Salowey, professor of classical studies, who introduced him to new passions, including travel to Greece. They subsequently traveled there frequently, sometimes leading Hollins students for January Short Term abroad experiences. They also married. Over the years his interests expanded to the ways that monuments, especially World War II memorials in Greece, use visual, textual, and contextual elements to tell persuasive stories about the past. The idea for his new first-year seminar, Erasing History? Rhetoric and Public Memorials, blossomed when he realized that his developing skill set could also be applied to controversies surrounding monuments to the Confederacy in the US, those to former Soviet heroes in Eastern Europe, and in a host of other global contexts. When he is not busy traveling and gawking at statues, he spends his time in the kitchen, making bread and Greek food, and outdoors, growing vegetables, hiking, and collecting firewood..
---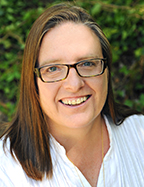 Christina Salowey, Professor, Classical Studies
Christina Salowey has been passionate about the ancient world since she began learning Latin as a middle school student in an all-girl's school in suburban NJ. At that same time, she began reading women's stories and thinking about women's voices in history, both contemporary and ancient. She travels widely, most frequently to Greece, sometimes with students, but more often with her husband, Christopher Richter, also a Hollins first-year seminar instructor. She lives in a little log house on the edge of the woods and cultivates organic vegetables and cats.
---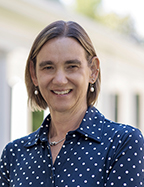 Darla Schumm, Professor, Religious Studies
Darla Schumm is a professor of religious studies and cross lists many of her classes with the gender and women's studies department. Her particular area of research and interest lies at the nexus of religion and disability studies. Visually impaired since birth, Schumm's research is grounded in the theoretical rigor of disability studies, while also deeply personal. In her spare time, she enjoys knitting, reading fiction, biking (on the back of a tandem), and just hanging out with friends and family. The best part of taking classes with Professor Schumm is that she is always accompanied by her adorable guide dog!
---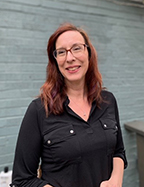 Ami Trowell, Visiting Lecturer, Theatre
Ami Trowell is the founder and creative director of Theatre3 and the founder of Ursula's Cafe. She has been performing with Roanoke's professional improvisation troupe, Big Lick Conspiracy, for over a decade and directing for the last five years. Trowell has studied improvisation at Second City, Chicago; and Dad's Garage in Atlanta, GA. She has produced and performed in several comedy podcasts including What Just Happened?, All Purpose Cleaner, Purposefully Derpy, and BP & Ami. Trowell received her B.A. in theatre from the College of Charleston and a M.A.L.S. from Hollins. Most importantly, she is the proud mother of three smart, funny, and amazing daughters.
---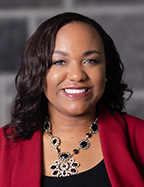 Jennifer Turner, Assistant Professor, Sociology
Jennifer Turner is an assistant professor of sociology at Hollins. Her research focuses on the intersection of race, class, and gender in the institution of family. Her work has been published in the journal, Sociology of Race and Ethnicity. She teaches courses on a variety of topics, ranging from Reproductive Justice to Social Theory. In her free time, she likes to do yoga, read romance novels, and hang out with her bunny, Oreo.
---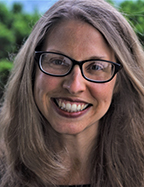 Jessie van Eerden, Associate Professor, English/Creative Writing 
A rural West Virginia native, Jessie van Eerden is the author of three novels, the most recent of which, Call It Horses, follows a road trip from the Appalachian bogs to the deserts of the American Southwest. She is also the author of the portrait essay collection The Long Weeping; this collection includes some of her first essays reimagining the lives of women from Judeo-Christian texts, women like Rizpah, the concubine of a king who kept vigil over her dead sons for many months, keeping away buzzards and beasts. Her work has appeared in Best American Spiritual Writing, Oxford American, New England Review, Image, and other magazines and anthologies. In addition to teaching creative writing at Hollins, she serves as nonfiction editor for Orison Books.
---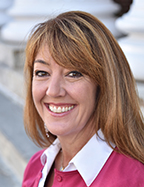 Teri Wagner, Assistant Professor, Education
Teri Wagner studied psychology and education at Roanoke College and received her M.A. and Ph.D. in curriculum and instruction from Virginia Tech. She taught public school for a total of seven years and also worked as an independent software trainer, consultant, and developer before joining the Hollins faculty in the summer of 2016. Her professional research interests focus on developing active, authentic learning environments through design-based learning, effectively integrating technology into the curriculum, and exploring issues in educational reform. Wagner is also using her expertise in instructional design to build the online learning community at Hollins, not only in the education department but across campus.
---
Shelbie Wahl-Fouts, Associate Professor, Music, and Director of Choral Activities
Shelbie Wahl-Fouts hails from the Midwest, growing up in Illinois and pursuing higher education in Indiana. She received her B.Mus. from DePauw University, M.Mus. from Butler University, and D.A. in choral conducting from Ball State University. When not in school, she was busy musical directing and conducting for nine seasons with the Indianapolis Civic Theatre. If her work involves conducting, singing, dancing, playing instruments, or any sort of performance, she's happy. At Hollins, Wahl-Fouts leads the Concert Choir, Chamber Choir, and Talmadge Singers, and teaches various other music classes, including Sight-Singing and Conducting. (Psst….Come join the choirs!) On the home front, she loves running and hiking with her husband, Donovan, and their son, James. Their full family includes a St. Bernard named Gatsby and cats, Carmen and Haydn.