The Hollins Critic, published five times a year, presents the first serious surveys of the whole bodies of contemporary writers' work, with complete checklists. Upcoming in 2023 are essays on Steve Tomasula by Hanna Hadjadj; Joel Oppenheimer by M. G. Stephens; Julian Rios by Thomas McGonigle; and Marie Howe by Liz Rosenberg.
The Hollins Critic also offers brief reviews of books you want to know about and poetry by poets both new and established. And every issue has a cover portrait by Rebekah Lowell M.F.A. '19.
Excerpt from February 2023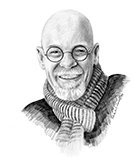 "Steve Tomasula: Twenty-First Century Fiction as a Broken Hammer" by Hanna Hadjadj
In his seminal essay "Writing the Post-Biological Bodies" (1999), Chicagoan experimental author Steve Tomasula refers to Heidegger's idea according to which a hammer is most itself when broken, that is to say that when its functionality and familiarity finally escape us, then only do we finally discover what "hammer" really means.
Writer's Guidelines
Note: The Hollins Critic reads poetry from September 15 to December 1 each year.
The Critic does not accept unsolicited essays. We rarely accept unsolicited book reviews.
The Critic does not publish fiction.