The Hollins Critic, published five times a year, presents the first serious surveys of the whole bodies of contemporary writers' work, with complete checklists. In past issues, you'll find essays on such writers as Ben Lerner (by Sydney Tammarine), Jeanne Larsen (by Marissa Mazek), Ruth Ozeki (by Ellen Louise Ray, Neil Jordan (by Kelly Cherry), Robert Wrigley (by Henry Taylor), and László Krasznahorkai (by Thomas McGonigle).
The Hollins Critic also offers brief reviews of books you want to know about and poetry by poets both new and established. And every issue has a cover portrait by Susan Avishai M.A. '02.
Excerpt from October 2020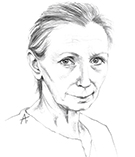 "Troubles Within: How Anna Burns's Fiction Confronts Violence" by Marissa Mazek
Anna Burns is not an easy writer to read, which is precisely why we must read her work. Her fiction requires attention, patience, perseverance, and the willingness to let go of our expectations of what we think fiction is supposed to be like. (A dry sense of humor doesn't hurt, either.)
Writer's Guidelines
Note: The Hollins Critic reads poetry from September 15 to December 1 each year.
The Critic does not accept unsolicited essays. We rarely accept unsolicited book reviews.
The Critic does not publish fiction.