The Hollins Critic, published five times a year, presents the first serious surveys of the whole bodies of contemporary writers' work, with complete checklists. Upcoming in 2022 are essays on Yehoshua November by Liz Rosenberg; Georgi Gospodinov by Thomas McGonigle; Colum McCann by Marissa Mazek; and Angela Carter by William Repass.
The Hollins Critic also offers brief reviews of books you want to know about and poetry by poets both new and established. And every issue has a cover portrait by Susan Avishai M.A. '02.
Excerpt from June 2022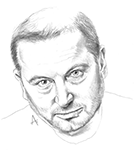 "Thinking Gospodinov Thoughts" by Thomas McGonigle
Time Shelter, a novel by Georgi Gospodinov is great, readable, wonderful, comic, deeply moving and important. A reader will come back to it again and again while wanting to read as soon as possible everything this man has written.
And this or that is the truth about Time Shelter by Georgi Gospodinov but why am I writing this essay in The Hollins Critic? Life is too short, too uncertain to mess around with carefully registered nuanced descriptions and always of course certain tiny reservations, since, after all, can any novel be as. . . and one hears a nagging voice: who are you and why are you going on like this and there is the reply: I have read this novel and I hope you go out and get a copy as soon as you finish reading this essay.
Writer's Guidelines
Note: The Hollins Critic reads poetry from September 15 to December 1 each year.
The Critic does not accept unsolicited essays. We rarely accept unsolicited book reviews.
The Critic does not publish fiction.