The Hollins Critic, published five times a year, presents the first serious surveys of the whole bodies of contemporary writers' work, with complete checklists. In past issues, you'll find essays on such writers as Ben Lerner (by Sydney Tammarine), Jeanne Larsen (by Marissa Mazek), Ruth Ozeki (by Ellen Louise Ray, Neil Jordan (by Kelly Cherry), Robert Wrigley (by Henry Taylor), and László Krasznahorkai (by Thomas McGonigle).
The Hollins Critic also offers brief reviews of books you want to know about and poetry by poets both new and established. And every issue has a cover portrait by Susan Avishai M.A. '02.
Excerpt from December 2020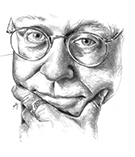 "Even in This World: The Poetry of Robert Mezey" by Henry Taylor
One day in the spring of 1962, near the end of my second year at the University of Virginia, I was summoned to the office of Professor Arthur Kyle Davis, Jr., who taught folklore and English Romantic poetry, and who administered the University's Academy of American Poets Prize. The Academy had recently sent him a copy of the 1961 winner of the Lamont Prize, given annually to a first book of poems (later it was awarded to second books). The book in question was Robert Mezey's The Lovemaker, and Professor Davis had decided to give it to me.
Writer's Guidelines
Note: The Hollins Critic reads poetry from September 15 to December 1 each year.
The Critic does not accept unsolicited essays. We rarely accept unsolicited book reviews.
The Critic does not publish fiction.