Mary Dana Hinton, Ph.D.
president, Hollins University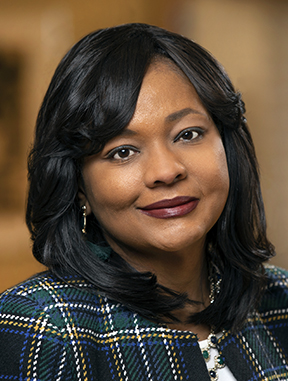 Mary Dana Hinton became the thirteenth president of Hollins University on August 1, 2020. An active and respected proponent of the liberal arts and inclusion, her leadership reflects a deep and abiding commitment to educational equity and the education of women.
A FORWARD-THINKING, TEAM-ORIENTED LEADER
For six years Hinton served as the president of the College of Saint Benedict (Saint Ben's) in Saint Joseph, Minnesota, and was named President Emerita upon her departure. Under her leadership, Saint Ben's put into action a collaborative strategic plan and dynamic vision to guide the institution through 2020. During her tenure, the college completed a $100 million comprehensive fundraising campaign, exceeding its goal. Hinton also led the process to implement a $43 million campus facilities update, enabling Saint Ben's to provide premier facilities for teaching, learning, and women's leadership development.
ACTIVE IN THE NATIONAL HIGHER EDUCATION ARENA
Hinton is a member of the board of directors for the American Association of Colleges and Universities, Interfaith Youth Core, Saint Mary's School, and the University Leadership Consortium. Hinton chairs the AAC&U Presidents' Trust and is also a member of the Lumina Foundation's Quality Credentials Task Force. In July 2021, she will begin serving a three-year term as an at-large board member with the National Association of Independent Colleges and Universities (NAICU).
She speaks frequently in the U.S. and abroad on topics related to the liberal arts and inclusion, and she founded the Liberal Arts Illuminated Conference. Hinton teaches in the University of Pennsylvania Graduate School of Education doctoral program in higher education management and the CIC President's Institute New President Program.
A broad range of academic interests
Hinton's scholarship focuses on higher education leadership, strategic planning, the role of education in peace building, African American religious history, and inclusion in higher education. She is the author of The Commercial Church: Black Churches and the New Religious Marketplace in America and a frequent op-ed contributor across higher education publications. Her TEDx talk, Leading From the Margins, reflects the thesis of her next book.
Hinton earned a Ph.D. in religion and religious education with high honors from Fordham University, a Master of Arts degree in clinical child psychology from the University of Kansas, Lawrence, and a Bachelor of Arts degree in psychology from Williams College. She is the recipient of the Bicentennial Medal from Williams College and an honorary Doctorate of Humane Letters from Misericordia University.
Hinton, her husband, Robert Williams, and their children, Hallela, Hillel, and Hosanna, make their home at Lorimer House, the Hollins University presidential residence.
Contact: presoffc@hollins.edu
540-362-6321