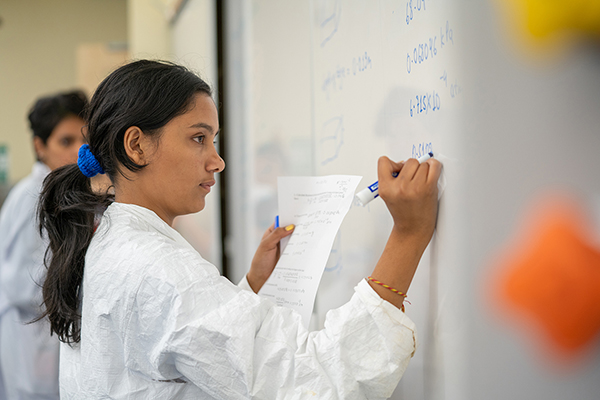 To further help qualified students pursue advanced degrees and meaningful careers in high-demand fields, Hollins University has finalized admission agreements with Murphy Deming College of Health Sciences at Mary Baldwin University (MDCHS) and the Virginia Tech College of Engineering.
At MDCHS, Hollins students who meet qualifications will be guaranteed the opportunity to interview for the following programs: Master of Science in Physician Assistant Studies, Doctor of Physical Therapy, and Doctor of Occupational Therapy.
Students who take an outlined course sequence at Hollins can gain early acceptance to Virginia Tech's Master of Engineering in Computer Science program. The alliance between Hollins and VT Engineering seeks to increase the number of liberal arts students who are growing the tech talent pipeline in Virginia.
"These new agreements, along with our existing partnerships with some of the nation's most selective graduate and professional programs, provide our students with a wide range of opportunities to build upon a strong undergraduate liberal arts and sciences foundation," said Alison Ridley, Hollins' interim vice president for academic programs. "Our students are thus able to position themselves to thrive in the fast-paced and innovative world of the 21st century."
In addition to partnering with MDCHS and VT Engineering, Hollins has agreements in place with Carnegie Mellon's Heinz College of Information Systems and Public Policy; the University of Virginia's Batten School of Leadership and Public Policy; the Middlebury Institute for International Studies; the University of Pikeville's School of Optometry, School of Osteopathic Medicine, and Coleman School of Business; and the Edward Via College of Osteopathic Medicine.