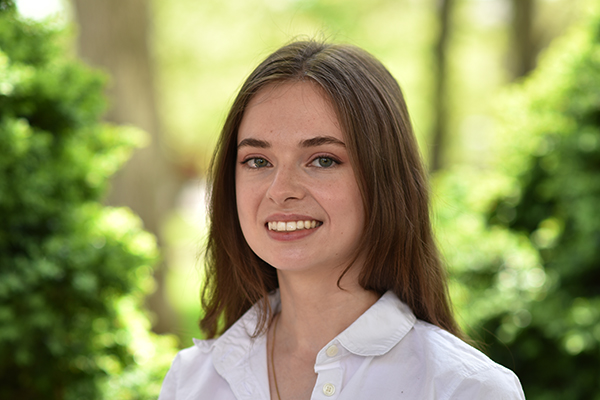 The microbiome is one of humanity's unsung heroes. A community of microorganisms that includes trillions of bacteria, fungi, parasites, and viruses may not necessarily sound like a good thing, but as the Harvard T.H. Chan School of Public Health notes, "In a healthy person, these 'bugs' coexist peacefully, with the largest numbers found in the small and large intestines but also throughout the body. The microbiome is even labeled a supporting organ because it plays so many key roles in promoting the smooth daily operations of the body."
"It's extremely important for human health and nobody realizes it," explained Geneva Waynick '21, who first became intrigued by the microbiome early in her undergraduate career. Since then, the biology major/chemistry minor has immersed herself in studying the factors that influence the composition of the human oral microbiome.
When considering college, Waynick recalled, "I didn't know what I wanted to do." But of all the schools she visited as a prospective student, "Hollins was definitely the most fitting for my personality. I enjoyed the fact that it was small and you matter more here as a student than at big colleges. You could make connections with your professors."
"Lasers, Nanoparticles, and Molecular Medicine," a first-year seminar taught by Associate Professor of Biology Rebecca Beach and Assistant Professor of Physics Brian Gentry, convinced Waynick that science was her calling. "In high school I had only taken the most basic level of science to graduate and had never been exposed to that kind of science before. I loved it so much that I decided to become a bio major."
By the end of her sophomore year, as she got more and more involved with science at Hollins, Waynick realized that above all, "I loved the lab aspect of my classes. I talked to my professors and they suggested I start my own research project." Assistant Professor of Biology Mary Jane Carmichael, "one of my favorite teachers," agreed to help Waynick, "and at the start of my junior year I started working on getting together a fully formed research project on the oral microbiome."
Waynick and Carmichael spent the entire 2019-20 academic year carefully creating the project that was intended to be Waynick's honors thesis, the capstone of completing her biology degree. Another of the year's highlights was interning during January Short Term at the Atlanta Botanical Garden. "That was the first internship I'd ever done and it was so amazing, one of my favorite experiences at Hollins. I worked in the conservation lab down there, looking at the viability of orchid seeds stored in a seed bank. It solidified that I love doing research."
At the outset of the spring term, Waynick looked forward to serving as a summer research fellow at Hollins between her junior and senior years. As a crucial part of her microbiome research, she would be identifying and quantifying the bacteria that are naturally present in human saliva samples and answering questions based on that data. The COVID-19 pandemic however would have a profound and unfortunate impact on that plan: Safety concerns surrounding the virus prevented the use of human biological matter in her research, meaning Waynick had to go back to drawing board and "shift the method by which I approached those questions."
Rather than be discouraged, Waynick recognized an opportunity. "I was somewhat disappointed when I had to start over, but I was not going to give up. I was going to get something out of this. I didn't know what I was going to do next until I started reading papers and I stumbled upon this subsection on infant health. I was drawn in by the complexity of the factors that influence the acquisition of the oral microbiome through infancy. In addition, there was a plethora of unanswered questions on the subject that interested me, including how different brands and types of commercially available infant formulas affect the composition of the oral microbiome."
Waynick realized that infant research in this subject was conducive to using culture-dependent methods. "The difference between working with collected samples and a culture-dependent model is kind of comparable to the difference between 'in vivo' and 'in vitro' methods," she explained, noting that "in vivo" refers to processes occurring within a living organism (i.e., in nature) and "in vitro" refers to processes occurring within a controlled environment (i.e., a test tube). "With culture-depended lab work, we purchased the species of bacteria that were pertinent to my research and cultured them in the lab under experimental conditions. I could grow the bacteria that I selected to represent commensal (beneficial) and pathogenic (detrimental) colonizers or the oral microbiome directly in the different infant formulas and measure how well each species grew. My final project ended up looking at how probiotic and non-probiotic infant formulas affected the growth of a commensal species and a pathogenic species."
Waynick believes changing her project was "actually kind of a good thing, I ended up learning a lot of things I never would have learned otherwise." Still, revamping her honors thesis was "a long and challenging process," and she praises Carmichael for her unwavering support. "I deeply appreciate how much she has helped me throughout my evolution as a student and as a researcher. During the summer fellowship, we were in contact multiple times a week. Even though it was all on Zoom, she really helped me make sure I could still get a project completed, and when we finally decided on the infant oral microbiome project, it was a 'hallelujah' moment." Over the summer, Waynick and Carmichael performed substantial literature review and then finalized the project's introduction and proposed research methods so that they could "hit the ground running in the fall."
Waynick presented the preliminary results of her work, "The Influence of Infant Formulas on the Growth of Commensal and Pathogenic Streptococcus Species in the Infant Oral Cavity," in early April at Hollins' 63rd Annual Science Seminar. "The results of this study may assist mothers in selecting alternatives to breastfeeding that will support the proper development of the infant oral microbiome by favoring the growth of commensal bacteria," she reported. Waynick will deliver the final results of her honors thesis in May. "There are so many questions to ask about the microbiome," she stated. "I really enjoy learning about it."
Waynick credits having had a work-study position within the biology department during her undergraduate career as being "the most important factor in helping me build a close relationship with both the department and with science as a discipline." In addition to her professors, she cites Biology Lab Technician Cheryl Taylor for helping her grow her research capabilities. "I have worked for Cheryl since my first year at Hollins and having that stable connection with the department has kept me really engaged. In addition to my constant exposure to all things biology, I have learned so many valuable skills from Cheryl. I believe I am ahead of the curve because I have been exposed to so many different lab techniques."
After graduating from Hollins, Waynick plans to bolster her experience for graduate school applications, and pinpoint the schools and programs she'd like to pursue, by spending a year working as a lab assistant.
"It would be amazing to make a career out of research," she said. "I just really, really enjoy learning about the intricacies of the physical world."