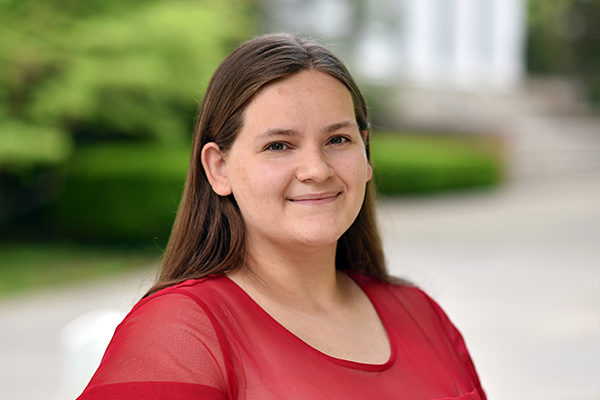 During her sophomore year, Claire Cook '21 and other talented vocalists from throughout Virginia took part in the National Association of Teachers of Singing (NATS) statewide competition at Shenandoah University. Contending in the musical theatre category, and working closely with Professor of Music Judith Cline to prepare, she qualified for the NATS Mid-Atlantic Regional competition, encompassing Maryland, North Carolina, South Carolina, Virginia, and Washington, D.C. Ultimately, she would reach the national semifinals in Minnesota that year, ranking among the top 14 performers in her grouping.
This spring, once again with Cline's guidance, the theatre major returned to NATS competition at the Virginia Chapter level. But, she wasn't able to perform live before three judges in a practice room at a host school, as she did as a sophomore. Because of the COVID-19 pandemic, this year's contest presented a whole new set of challenges. The competition was held virtually and participants could not sing live and in person before the judges: Auditions had to be taped and submitted in advance.
"There is the potential for so many variables that could go wrong, so I would say it was a lot more difficult," Cook explained. "I was home on break as the submission deadline for the statewide competition approached. So, I had to record the numbers at home by myself at night in my dining room, right below my dad's bedroom. I didn't have the best equipment, either. I had to stand just four feet away from the camera, and because I was so close, my breaths were really loud." Since she was now a senior, Cook was moved up to a higher musical theatre category; instead of singing three numbers as she did as a sophomore, she had to audition with four new contrasting pieces.
Nevertheless, Cook impressed the judges so much that she was selected as a Virginia honors recipient, and once again went on to compete at the NATS Mid-Atlantic Regional Competition. Regionals were also held remotely, but fortunately Cook could prepare for the event after she returned to campus for spring term. For this competition, she used the more spacious and acoustically dynamic Talmadge Recital Hall to rerecord her musical selections.
When Cook enrolled at Hollins, she was already a seasoned theatre veteran, having performed as a lead or supporting actor in a number of shows in her hometown of Winchester, Virginia. She launched her undergraduate career in a production of Chicago as a part of the vocal ensemble, and then earned her first understudy experience in the Spring 2019 staging of the musical Fun Home. "When you're an understudy you have to learn everything that the principal actor does because you have to be prepared to go on at any given moment. There's no guarantee you'll go on, but you have to be there for most of the rehearsals, you get fitted for a costume, you do everything."
As "Mrs. Alexander" in The Curious Incident of the Dog in the Night-time, Cook was not intimidated by the fact that the pandemic had necessitated the play be staged via Zoom. "A lot of it is just remembering to turn your audio on and off," she laughed, but quickly added, "the main thing we missed with the Zoom production was the connections you make with the audience."
The absence of interaction was addressed in her next virtual production, the drama Decision Height, where she played "Mrs. Deaton," the den mother. "We allowed the audience to come on camera at the end of the show. That was an upside because I got to see every individual person instead of looking out over a sea of people as you normally would with a live staging."
Cook's stage work represents just some of the opportunities she's taken advantage of as a theatre major. A job fair sponsored by the Southeastern Theatre Conference (SETC) connected her with a variety of employers. "I met a lot of great people and I actually got a job through SETC this year for the summer." Through the Kennedy Center American College Theater Festival (KCACTF), she auditioned for the KCACTF Region IV Irene Ryan Acting Scholarship, which supports student actors across the nation. She got to see live shows such as Mamma Mia and West Side Story at Roanoke's Mill Mountain Theatre (a Hollins Theatre partner) and attended productions at the renowned American Shakespeare Center in Staunton, Virginia. And, she interned with Arena Stage at the Mead Center for American Theater in Washington, D.C.
Cook also praises her professors for encouraging her acting pursuits and igniting her interest in other aspects of theatre production such as scenic design. "You really get to know the professors in the theatre department," she said. "Theatre just has really nice people to come in and through. The theatre's student community is also tight-knit. I met my best friend there."
Hollins' study abroad program was one of the biggest draws for Cook as a prospective student, and she blended her passion for international experience with her field of study by participating in the London Theatre Semester during fall term of her junior year. Taking the London Stage class immersed her in all of what London has to offer theatrically. "I saw so many shows. I went to Shakespeare's Globe and to Stratford-upon-Avon to see the Royal Shakespeare Company. I lived with a host family in East Finchley (an area in North London). That was really nice, and it was such a sweet little neighborhood, so pretty."
Through her SETC networking, Cook will work this summer as a photographer/counselor at Stagedoor Manor, a prestigious performing arts camp in New York State whose alumni include Mandy Moore, Zach Braff, Natalie Portman, Robert Downey Jr., and Bryce Howard. Then, "I'm going to be applying for apprenticeships for administrative theatre jobs and auditioning for whatever I can. I want to go to graduate school in theatre, but there's a lot competition there, especially from industry professionals and those who have done national tours. I definitely need to have that experience."